Throw away society
When snow last week kept me at home, I turned to blogging. I always have a list of blog post ideas and a folder full of clippings and articles. One of those articles came from the Vancouver Sun newspaper.
The writer commented on our throw away society and I agreed with her hundred percent. I'm as guilty as the next person. Although, I should add, that I'm changing. I signed up for an account at Return-It and ordered free sticker labels. Now all I do is attach one label to a clear garbage bag full of bottles and drop it off. No more sorting filthy bottles.
Return-It itemizes all returned bottles and deposits the money to my account. I can let it accumulate there or redeem it to straight to my chequing account.
The next step for me will be recycling old electronics and cables which are rapidly accumulating in my place as my kids turn into teenagers.
Felco forever
Now back to the Sun article. What struck me was that the writer used Felco snips as an example of a tool designed to last forever. And Felcos really do last forever. The red rubber coated handles will easily outlive me.
I did a little maintenance experiment with my Felco 2s because they are easier to dismantle. They sport just one bolt. So, I popped it, cleaned out the main surfaces and installed a brand new blade.
Then, I replaced the spring. Those are the two components that you will ever have to change. The total retail cost was about C$25 and I'm hoping to submit it as a business expense on my taxes next year.
The difference in cutting quality is noticeable. The snips make nice sharp cuts easily. So easily, I regretted not composing this blog post earlier.
Incidentally, pruning demands sharp tools. Snips, loppers and hand saws. Dull tools make poor cuts and tend to shred plant tissues. Always use sharp tools.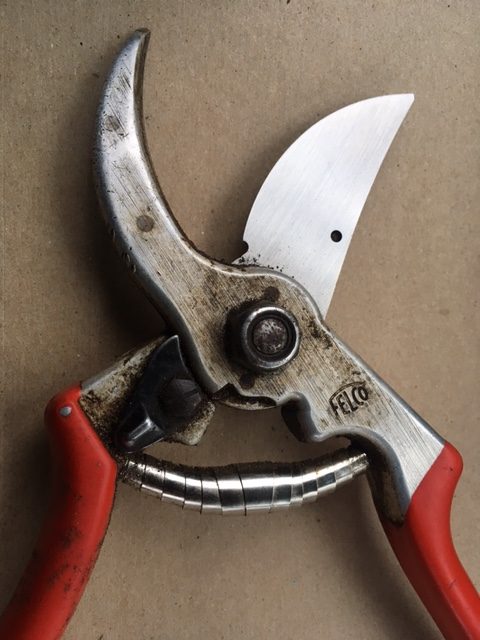 Conclusion
Felcos are great so they're not cheap. But the up-front C$80 cost is justified. The snips will last forever. All you have to do is replace the spring once in a while and sharpen the blade. If you choose to replace the blade, it will only set you back C$25 at your local retailer. And I believe that's a small price to pay for beautiful pruning cuts in the field.
If you already own Felcos, maintain them well. If you're considering buying a pair, don't worry about the cost. The red rubber coated handles will probably outlive you.