I love the idea of one city buying the naming rights to a rose variety. But having said that, I'm not really a great fan of roses. Their fragrances are intoxicating and I love the feel of their petals. But it's unlikely you will ever see me joining a rose society. I personally prefer trees and forests; and wild plants. Roses with their prickles were always associated with some princess getting pricked and falling asleep for a hundred years. And yet, the idea of having my own rose variety is appealing.
Coquitlam rose
As a landscape blogger I had to be there for the official unveiling of the Coquitlam rose. It happened at the beautiful Centennial Rose Garden at the Dogwood Pavilion. Incidentally, I have good memories from the adjoining parking lot. I visited many farmer's markets there; and I maintained the green spaces when I worked for the parks department there in 2014.
The rose garden is well worth the visit. If you are in the area definitely stop by.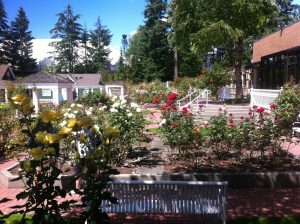 Having elected to not return to the City of Coquitlam, I hung back until the officials cleared out so as to avoid any awkward moments. Then I took as many pictures of the new Coquitlam rose as I wanted. And I surveyed the bowling green next door for chafer damage since I got to witness nematode applications there the year before.
The rose
The Coquitlam rose is salmon-colored and locally bred. It's hardy, disease resistant and long blooming. That's a nice list. The official unveiling took place at the Centennial Rose Garden at the Dogwood Pavilion. The Coquitlam rose is also planted at city hall and at the Inspiration Garden.
You can watch a video on the Coquitlam rose by Jennifer Urbaniak who runs the fun activities in Coquitlam parks. Jennifer also sat the Red Seal challenge examination with me at Kwantlen Polytechnic University. Our fear of failure and embarrassment pushed us in the right direction. We both passed! She snagged a sweet full-time job and I became a landscape senior supervisor in the private sector. Both Red Seals win!
Go visit the Coquitlam rose in 2017 and see what you think.