Botany can be super fun and I will prove it with this blog post. The star of this post is a structure called an involucre. The best definition I could find online is:
"a highly conspicuous bract or bract pair or ring of bracts at the base of an inflorescence."
Don't worry, it will makes sense right away. I have examples coming below.
Carpinus betulus
This is a branch from a Hornbeam tree and right away you'll notice the three-pronged involucre that partially covers the seeds at the base. That's the point of involucres: they partially cover the seeds. Now, as for the leaves, they look like birch leaves so it explains the specific epithet "betulus".
Carpinus betulus (Hornbeam) is an attractive landscape tree with good fall colours and its signature involucres give away its name.
Davidia involucrata
So, now after reading the headline above you should know what's coming.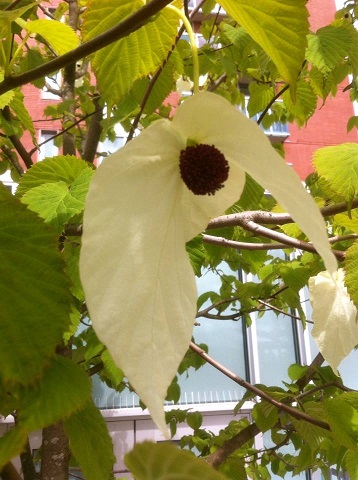 The ghost tree (Davidia involucrata) has massive involucres, so conspicuous that they make the flowers, which are partially covered, look like ghosts. This is why it's one of my favourite trees and why it populates my list of easy to identify trees.
Once you know it you will never forget it.
I took this picture inside a rooftop daycare centre in Vancouver so you can see that landscape architects have a good sense of humour. They planted these trees inside raised cement, bench-like boxes, which guarantees that the little kids must look up at the ghosts. I wonder what the kids think. Perhaps to them the flowers look like handkerchiefs, another common name for this tree.
Eventually, the bracts fall off and all you have left is a large nut.
Conclusion
An involucre refers to a bract or bracts that partially cover a flower. As a structure it makes the trees fun to observe and easy to identify. How many others do you know? Don't forget to share with a comment and picture.