I'm not kidding, landscapers with brooms is a real thing. I've seen commercial landscapers in White Rock using brooms for clean-up. You don't see that much except for the West End of Vancouver where blowers are officially banned. I worked there way before the ban and I have no idea how it affects landscape maintenance.
White Rock
Take a moment to examine the picture below and note every detail. Then continue reading below. (I didn't ask for permission to shoot the photo so you can't see the workers' faces. The girl is cute!)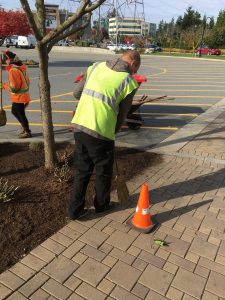 Don't dismiss these dudes too quickly. In this commercial landscape setting brooms actually make a lot of sense. The only potential downside -other than the workers flying off- could be slower completion times when compared to backpack blowers; but I'm not completely convinced. See note 8 below. There are many positives:
The many shopping mall islands are small and easily cleaned-up by two brooms.
The workers don't require ear protection and their exposure to dust is minimal.
There is no blower to lock up from would-be thieves. Nobody steals brooms.
There is zero noise pollution generated and the nearby health clinic patients must appreciate that.
There is zero chance that parked cars will get covered in dust. The nearby golf store patrons are well-healed and sensitive.
Brooms don't require expensive fuel and don't produce harmful particulates. They're also cheap and don't cause fuel spills.
Brooms allow the workers to hear traffic. Note that they are correctly wearing high-visibility vests and using safety cones. Working in pairs is safer and more efficient. It also makes the work day more fun.
Blowing small islands like this is awkward even on low power because there is always the risk of splashing soil.
Using brooms gets both workers moving.
City work
I spent my 2014 season working under a municipal gardener and she absolutely detested noisy backpack blowers. I think we used them less than ten times during the season. And we survived because gardening doesn't create as much mess as landscaping. I must confess that it was a nice change from regular landscaping. I didn't miss the noise.
So there you have it, it's possible to maintain landscapes without backpack blowers.