RIP Jed Walters
Arborists go down every year in North America. One of my LinkedIn contacts shared this statistic: tree workers in the United States are fifteen times more likely to die on the job than workers in other industries. Sadly, Jed Walters became a statistic on January 20, 2023. We'll get back to Jed soon but first let's see my "redneck" tree work.
Targets everywhere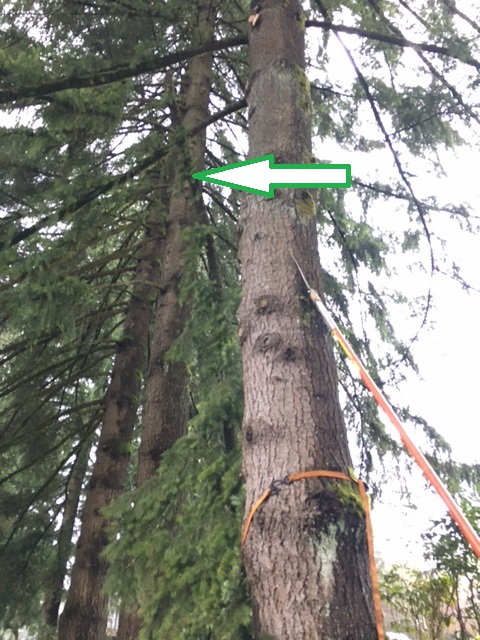 Since I was on site to do landscape maintenance, not tree work, I had to improvise a bit. Below this broken branch is a parking lot full of cars so there were too many targets for me to ignore it and walk off.
Considering the size of the branch, I had to strap it to the tree first before cutting it loose. I couldn't be sure where it would land. And once I cut it loose, it just sat there, propped up by other branches. So, I made one more cut and the heavier top part crashed down with limited guidance from me. Even a branch this small generates huge forces. Forces large enough to kill you.
Deadly snags
Last summer, a girl from the school board showed up and cut down blown-over trees. Unfortunately, the tops broke off and lodged themselves over the fence in our maple tree. Incredibly, the girl didn't inform us of this, I just happened to notice it later.
You can't leave dead pieces of wood in another tree's canopy and walk away. As soon as people walk out to enjoy their patio, they'll become targets. So, I dislodged the loose snags and hauled them away, cursing.
Bigger scale
Jed Walters was a professional arborist with his own YouTube channel: Guilty of Treeson. Last week he was clearing away trees felled by a storm. Two fir trees had crashed into a maple so the idea was to drop the maple, which would automatically take down the firs. Except, things didn't work out as planned.
Jed and his crew didn't notice a snag, hanging in the maple tree. It might have been the chainsaw's vibrations that sent it crashing down. It hit Jed in the face and killed him instantly!
So, let's give trees and arborists lots of respect. I always encourage my readers to prune their own small trees; and to hire professionals for bigger specimens. It's better to pay the hefty charges than to become a statistic.
Jed leaves a wife and two kids and there is a GoFundMe page set-up if you want to help.
Stay safe!