This is one of my favorite shrubs. It tolerates pollution, produces beautiful tiny flowers in corymbs (flat-topped clusters), and has attractive fall leaf color.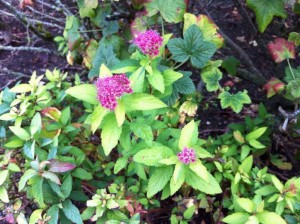 My research showed that Spirea produced a second bloom when cut back after flowering. The picture below shows the results of my field test. The second bloom came, it just wasn't as profuse as the first.
When the shrub looses its leaves in fall, you can cut back the stems in winter to keep the plant from outgrowing its space.