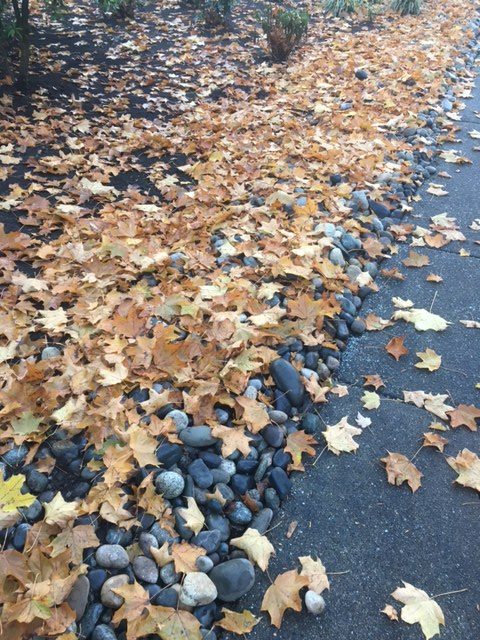 What leaf blower haters overlook
The one thing many leaf blower haters overlook is the struggle of building caretakers as they try to keep leaf debris out of their buildings every fall. Jackie is a caretaker, and she loves my leaf blower. No, it's not a mistake, she loves my leaf blower because she has three buildings to maintain and keep clean. Whatever leaf debris tracks in with residents and wind must be removed. But not if I get to the leaves outside first.
By the way, Jackie is a real person but she's a bit shy. I even offered her a free West Coast Landscape Pro mug for providing her picture, but it didn't work. She's a middle-aged lady with long blonde hair and a smoking habit. Occasionally, she freaks me out when she smokes in the shrubbery by the side exit.
I also use the word love in a professional, platonic sense. Don't rush out to buy an expensive leaf blower because Vas promised you easy caretaker's love. This is a family blog, not a hook-up site.
Use it or ban it?
Yes, leaf blowers are loud, and they create noise and air pollution. They also stir up unhealthy dust in summer.
Someday soon, the technology will improve, and we'll be able to use battery-operated leaf blowers. Then there won't be any need to write blog posts like this.
If you're a landscaper, you know that your leaf blowers are indispensable. If you're a homeowner, you can afford to quietly rake up your leaves.
So far, only a few places have successfully banned leaf blowers. The only place I know of in British Columbia is Vancouver's neighborhood around Denman Street. Built up with residential towers, the noise tends to echo throughout the neighborhood. I worked there before the ban and I'm not sure how the landscape contractors are managing every fall.
When you hear a leaf blower in your neighborhood, remember caretaker Jackie before complaining. She loves me. You should, too.