I use small engine machines almost every day in the field, mainly Stihl models. I use them but I don't pretend to understand them. My favourite tasks are almost always related to plants; machines I barely tolerate. When something breaks down the machines go straight to the dealer for repair.
This simple blog post covers low idle problems and it's intended for mechanically-challenged people.
The problem
Once in a while a problem pops up and I know there must be a simple explanation. Take this recent example from the field.
Power shearing cedar hedges is a common fall task in our West Coast landscapes. Usually there are miles of hedging to shear and time is short. Now imagine my frustration when I let go of my machine to move the ladder along and the engine dies. Once I'm ready to continue the engine starts and functions properly as long as I keep my finger on the trigger.
I also had the same problem with my backpack blower. As soon as I eased up on the trigger, the unit would shut off. Moving the blower off and on my back and restarting it is extremely annoying.
The fix
At it turns out, this low-idle problem has an easy fix which is great news for this mechanically-challenged landscape professional. The fix is so easy, I had to write a blog post about it. Slowly, very slowly, I learn about the machines I use every day and you can too.
Step 1
Grab a small screw driver provided by Stihl or any other model. Until now I've been only using it to execute blade changes on blade edgers.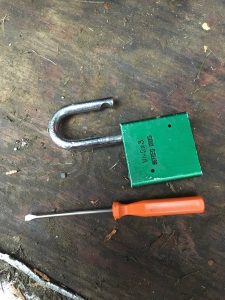 Step 2
Find the circular port hole labelled LA on the back of your blower or small engine. That's where the screw driver goes.
Step 3
For this step you should consider using a mask because the unit has to be turned on and sucking exhaust isn't safe. With the unit running, stick the screw driver in and move it until you hear the engine speed up. It took me a while to do this but eventually I let go and let the blower idle. Once it stayed on without shutting off I was back in business. It was an easy fix. I had no idea.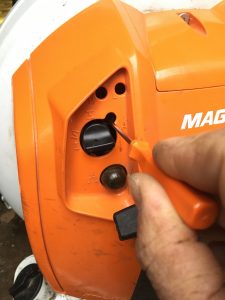 Let's review. If your blower or small engine shuts off instead of idling, you can easily fix it with a small screw driver. Doing the repair yourself in the field will save you time and needless frustrations with repeated restarting.