What's this?
As a landscape manager I often visit sites after being away for months so I notice when things change. One example is from last week. I did my routine line trimming session and then I noticed the sidewalk lawn creep. This was new and fairly recent. Take a look.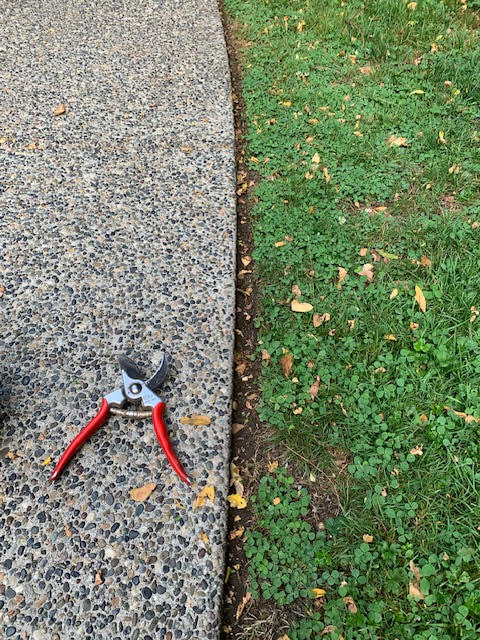 Edging is done to keep grass from overwhelming the sidewalk. If you allow it, it will slowly creep over the edge and annoy people using the sidewalk. Now, I personally prefer to use a blade edger because the metal blade is sharp and skinny. You run it along the sidewalk edge at ninety degrees and use it to separate grass from the sidewalk. It's very narrow and hardly noticeable. Edging shouldn't be noticeable; we aren't building ditches. All we are after is sharp, clean edges. Blade edgers are designed for this kind of work.
Vertical sinners
Not every landscaper is willing to walk back to his truck to grab a blade edger. What if the blade needs changing? Horror! Let's just use the line trimmer to vertical edge the sidewalk instead. Right, creeps.
Note how wide the edge is getting in the picture above. That's because the landscaper is edging from the lawn side and it's not done at ninety degrees. It looks like forty-five degrees or worse. Now, when you do this weekly, the lawn edge starts to creep away from the sidewalk. Very soon pets lodge their paws in the gap and weeds drift in. Now you've just created more work and your edges looked horrific. And Red Seal Vas gets to rant about it.
Solution
If you insist on vertical edging with your line trimmer, you must do it from the sidewalk edge. That way, if you miss you hit the sidewalk which is solid and unlikely to start creeping away. The other adjustment you must make is to aim for ninety degree angles. Make sure your string hits the edge at ninety degrees so we avoid lawn creep. This is easily accomplished with a blade edger.
Do not get sloppy and allow your edges to creep from the sidewalk into your lawn. This creates an unsightly gap that eventually harbors weeds. Edge like a pro.