There is only so much space available for plants on strata properties. When the complexes are first built they look great but over time, as plants mature, we start to run into problems. This blog post explores some common examples from my work sites.
Driveways
Some driveways are way too tight. Of course, this isn't obvious at first because we landscapers don't live on site. In the picture below there are two Berberis thunbergii specimens planted in front of boxwood (Buxus). Dead space just gets invaded by weeds and landscapers hate dead space. So we plant it up.
And then the owners come home……There is very little sense in replanting because the owners are bound to reoffend.
Holly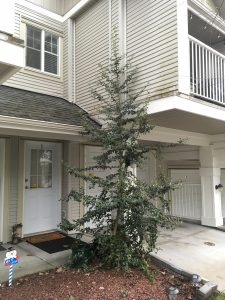 It's not clear whether this holly was planted by the owners or just simply invaded the space. Whatever the case, it's way too close to the building. And that gets insurance companies very excited.
The holly could be pruned but that wouldn't solve the problem. There simply isn't enough space for this plant. My suggestion was complete removal and replanting with something smaller. There are many shrubs available that won't overwhelm this space.
Plant separation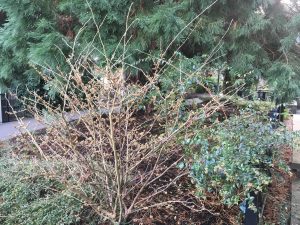 I really like this one corner. The Hamamelis mollis shrub is blooming right under a giant sequoia (Sequoiadendron giganteum). The only blemish is the Abelia (Abelia x grandiflora) shrub that's growing into the witch hazel and through the fencing. So I gave it a little hand-pruning to achieve a bit of separation.
As the landscape matures, there is more and more of this type of work. Sometimes, it's necessary to edit out plants completely.
Trees
The idea that trees need room to grow seems obvious but people often forget to look into the future. Do you know the mature size of your landscape trees? Sure they look beautiful when they're installed but without room to grow they inevitably get abused. Mainly by harsh pruning.
I have selected two examples from many. The first maple (Acer palmatum) is the saddest maple I know! The other maple is even worse off. So please remember to consider the mature size of your landscape trees. As an arborist I prefer complete removal to annual hacking.
Trees are resilient. They will push out new growth. Except we don't have the required space for them.
Space considerations are a big deal on strata title properties. Remember to give plants room to grow and separate them when you can.