Now that our deciduous landscape trees have lost their leaves we can clearly see the branch structures. And as I recently removed one broken branch I had a flashback to summer. And a blog post was born. So let's consider the basic differences between summer and winter tree pruning.
Summer tree pruning
As trees flush out in spring strata property residents freak out about encroaching branches. That's when I get called in.
Summer tree pruning is light because sunny days are already stressful enough for our landscape trees. Trees also store food in branches so removing too many could pose a problem for the trees. Remember, under drought conditions trees shut down their leaf openings to prevent moisture loss; this also means that they can't produce food and must rely on reserves.
Most of the pruning requests revolve around crown shape and branch encroachment. Since the branch structure is hidden under foliage it's best not to make too many radical cuts.
In the first example below you can see what the strata council wants: all birch crowns are to be tightened up. Nothing radical.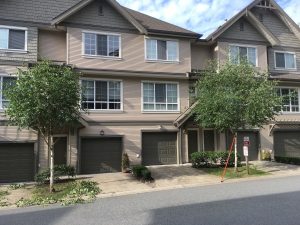 In the second example below, the owners want this Parrotia persica (Persian ironwood) lightly shaped so it's off the building. Again, nothing radical. The lady loves the finished look.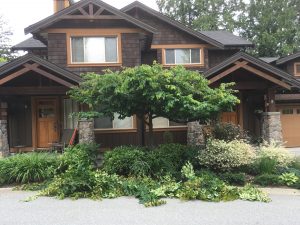 Winter tree pruning
Now consider winter tree pruning. Since the leaves are gone we can see branch structures well. And all of a sudden I'm finding broken branches in crowns that were until recently covered up by leaves.
Horror show
Not all winter tree pruning is enjoyable. Some strata complexes have their trees topped and, of course, the trees notice it. Then they produce extra sprouts from the cuts and we have to remove them annually. And so the cycle begins.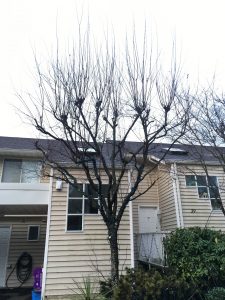 Conclusion
Leave harsher tree pruning for the winter when the trees are dormant and their branch structures are clearly visible. If you must prune trees in summer, do it lightly.