Power shearing, really?
I get it, in commercial landscaping time is short. Crews have lots of work during the day and it's not a good idea to get stuck on one task for too long. But there is a price to pay for this rush, especially when it involves plants.
I thought about this as I waited for my son to get picked up by his buddies and driven to a bike park for hours of fun. As I waited, I examined the landscaping in the roundabout and came across freshly sheared rhododendrons.
Now, this isn't the first time I blog about this. I don't think rhododendrons are good plants for shearing but I understand why people don't want to hand snip them into shape. It takes time. And time may be short.
Ugly!
Rhododendrons are woody shrubs. They're not soft like, for example, boxwood. The power shearing shreds the plant tissues, leaving stubs and shredded stems and leaves. And it looks awful. It's like punishing the shrub after it does its job of flowering nicely.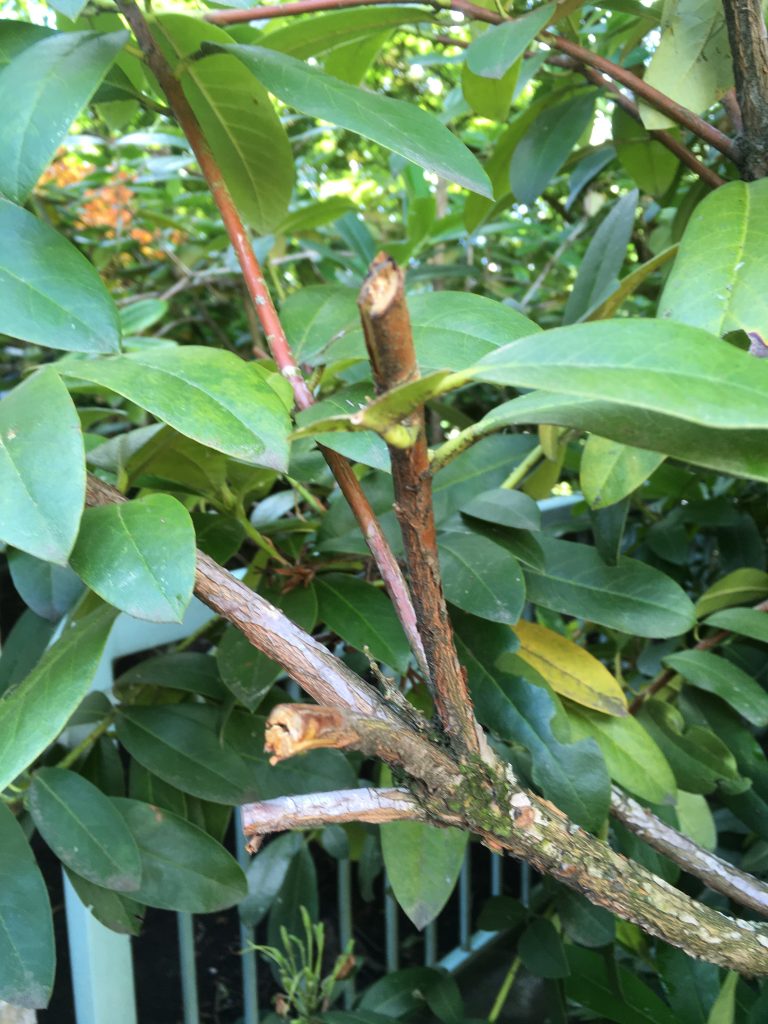 Whenever I see power sheared rhodos, I feel like reaching for my hand snips and cleaning things up. And, considering that this specimen is next to a high-profile sidewalk, that might not be a bad idea. But again, it would take time.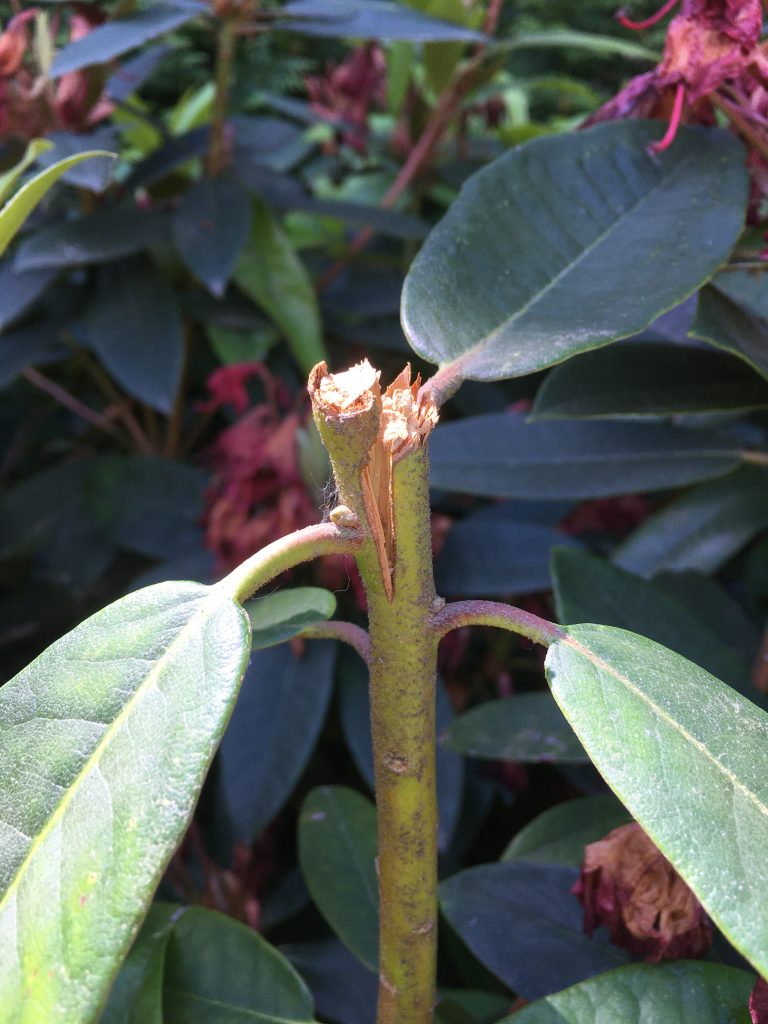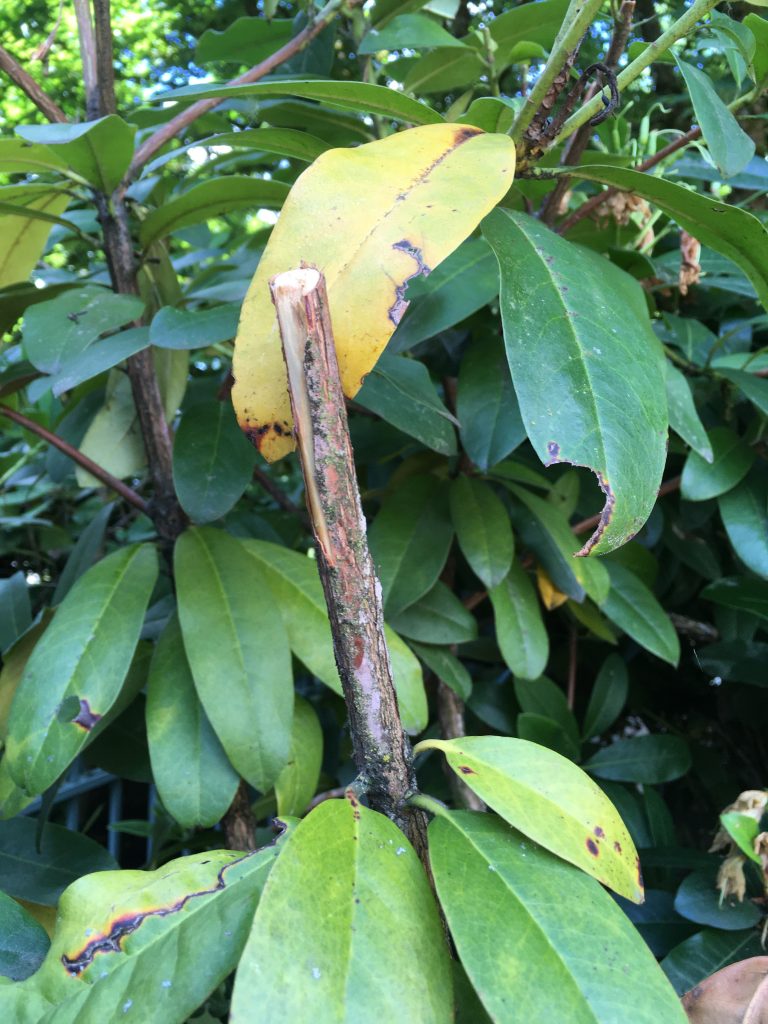 I also observed injured plant tissues and obvious stubs because rhodos aren't made for power shearing. It's important to clean things up with hand snips.
Hand pruning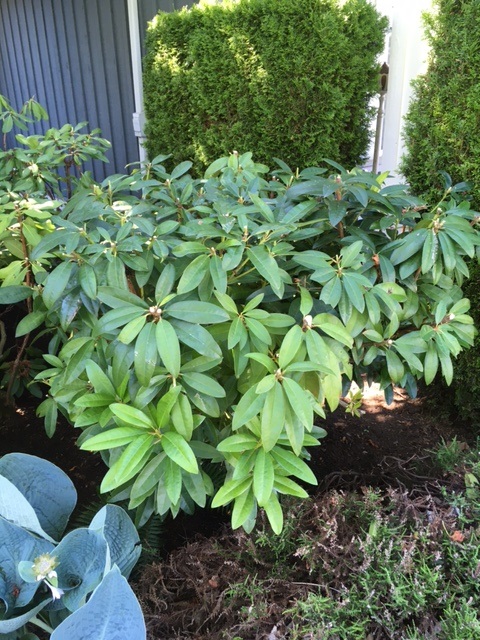 The above rhododendron was hand pruned fairly quickly without air and noise pollution. We removed one to two year's growth thereby keeping the shrub in its available space; and we pinched off any spent flowers so the shrub doesn't waste precious energy on seed production.
There aren't any shredded leaves or stems visible and everything looks fine and green. Also, note the timing of our pruning, right after flowering.
Conclusion
For best results, hand prune your rhododendrons right after flowering. Don't reach for your power shears to save time. The shrubs look awful after power shearing. Save time elsewhere.