Because I follow Dr. Linda Chalker-Scott on social media I knew that she was in the studio recording her Great Course called The Science of Gardening. Then after several months I checked the Great Courses website and the course was available. There was just the small problem of cost. The course list price is over $200US which is way over my budget.
Soon after this I opened my copy of Fine Gardening magazine and inside it was a priority code which lowered the cost to $59.90US. So I bought access to the course on the same day and it was well worth the price.
I believe all gardeners and landscape professionals should go through this excellent course. Here's why.
a) Dr. Linda Chalker-Scott is based in the Pacific Northwest which makes her a great local resource. I own several of her books and often refer to her extension publications. If you are a gardener or landscaper you must know her. Period.
b) The course is made up of 24 lectures and each lecture runs at around 30 minutes. The key selling point is that everything is science-based. There are many myths in gardening and Linda destroys many of them. This should save gardeners a lot of money.
Take, for example, the sale of deer-resistant plants. Home owners install their new plants but deer eat them up anyway. That's because a very hungry deer will eat whatever she can get (feeding pressure). There are no pest-proof plants.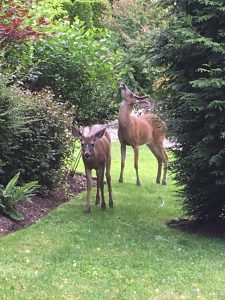 Another myth is landscape fabric. Long sold as guarantee of a weed-free landscape, it actually doesn't work. In the course Linda covers two beakers with two different landscape fabrics and they both don't allow any water in. So much for the promise of water and air movement between the fabric and the soil below. Landscape fabric is a waste of money. Now you know.
c) The studio lectures are nicely interrupted with field visits which gives the student a nice mental break. Linda also gets her hands dirty demonstrating various things like bare root planting and pruning.
d) My favourite lecture is number 17 CSI case studies where various interesting landscape issues are presented and analyzed. This was by far the most interesting lecture.
e) If you need CEUs toward your Landscape Industry Certified re-certification this course will be good for 12 credits. I haven't checked with the International Society of Arboriculture (ISA) yet if they will recognize this course.
Conclusion
The Science of Gardening is an excellent science-based course that's well-worth the $60US cost. Dr. Linda Chalker-Scott is an excellent Pacific Northwest professional and I'm convinced that all gardeners and landscapers should be familiar with her work.