Don't delay
As soon I walked into one ground level strata unit yard last week, I noticed piles of sweetgum (Liquidambar styraciflua) seed cones. You can expect to see some but not piles. Then I looked up and saw the problem: a large branch had broken off and now it was just hanging in the tree. It was suspended in the tree, waiting to claim any unsuspecting victim, which isn't funny. A child playing on the patio could potentially be killed; and adults would definitely end up concussed, or worse.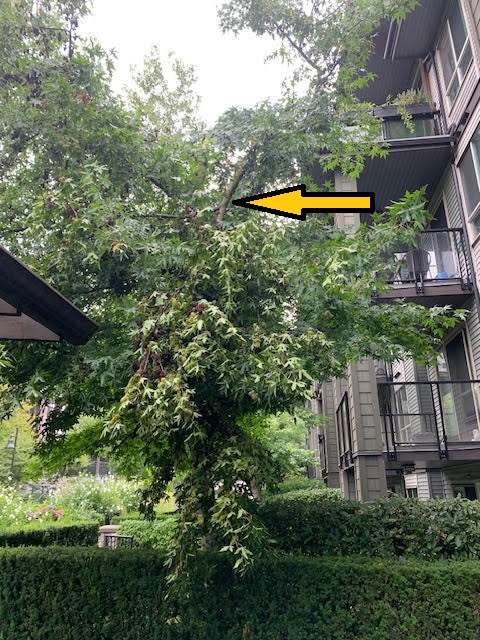 Large broken branches must be taken care of immediately. Strata owners should call their garden rep or building manager. A direct call to your landscape contractor like Proper Landscaping would also work.
It happens
You can expect some craziness with trees. Weaknesses develop as the tree matures and with sweetgum trees the weight of their seed pods alone can cause headaches. Here there was some weakness in the branch attachment, as indicated by the black tissues. See the picture below. That's biology. We just can't tolerate broken branches stuck in trees for safety, and aesthetic reasons. Our landscapes should be healthy, green and beautiful; and free of hazards.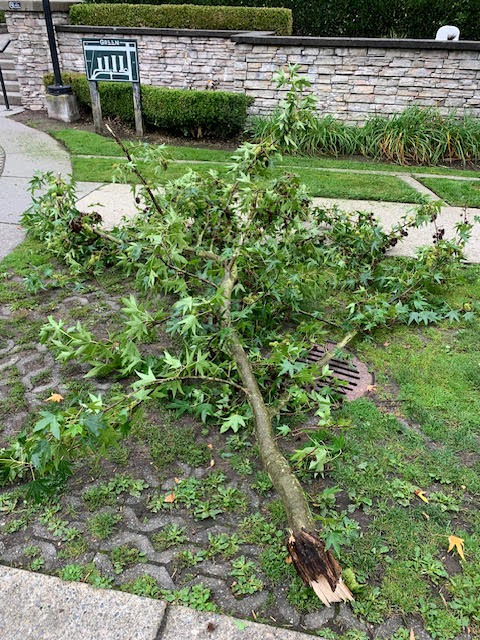 Sweetgum
Liquidambar styraciflua trees are an awesome alternative to maple trees. The leaves look similar to maples but the distinctive seed pods give it a unique look. The weight of the seed pods gives the tree a workout. Then, add a bit of wind as in this strata example where the two buildings create a wind a tunnel, and you get trouble.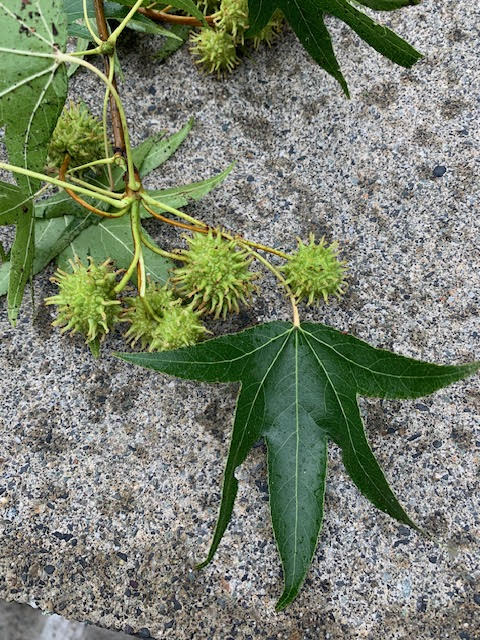 Sweetgum trees also put on a nice color show in the fall; and they hang on to their leaves for a long time. If you plant one, make sure it has room to grow in the future. It's not a small garden tree. We see it planted along strata complex streets.
Conclusion
Trees lose branches all the time, in wind storms, through disease and decay; or vandalism, and even self-pruning. The key is to quickly identify dangerous broken branches and remove them, especially inside strata complexes where there are targets like kids, pets and pregnant women. Barbecues and glass plates are also targets.
Call your landscape contractor, building manager, strata manager or council member and remove the danger as soon as possible. I pulled down the branch pictured above with my hands and it landed heavily on the sidewalk. Give trees lots of love, water and respect!