Control
It's important to be a great neighbor by controlling the plants growing at your place. In strata complexes, Proper Landscaping can take care of business, but what about private residences?
People are busy fighting their monster mortgages and sometimes there isn't enough time for your garden plants. Until your municipality forces your hand with a polite written note to get moving, or else.
That's where Red Seal Vas comes in to help you and make sure your neighbors still love you. Let me illustrate this with two recent examples.
Dangerous staircase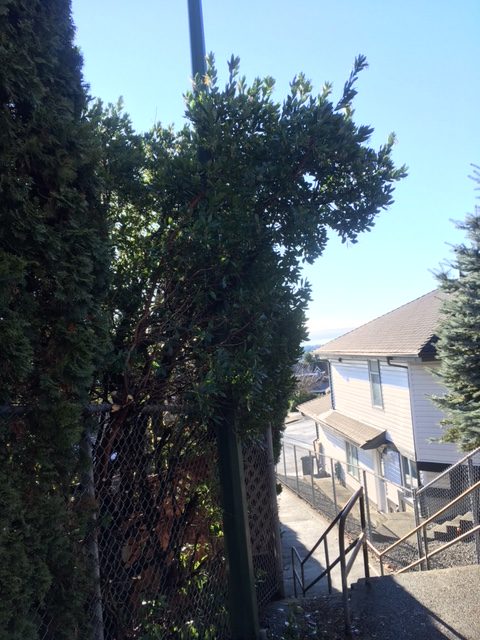 The shrubs in this picture are clearly getting out of control, probably because they're reaching for light and never get pruned. By itself, it's hardly a disaster but look at the big picture.
Imagine you're walking by in the evening and just as you reach the top of the stairs, extra light would help. Except the lamp is partially blocked out by the shrubs. You make it down safely, this time. But when you get home you wonder if the dark corner isn't a perfect place for criminals and podophiles. That's when you sit down and file an anonymous complaint with your municipality against the homeowner.
Weeks later, I get extra work. Yes, I'm the hero in this made up story.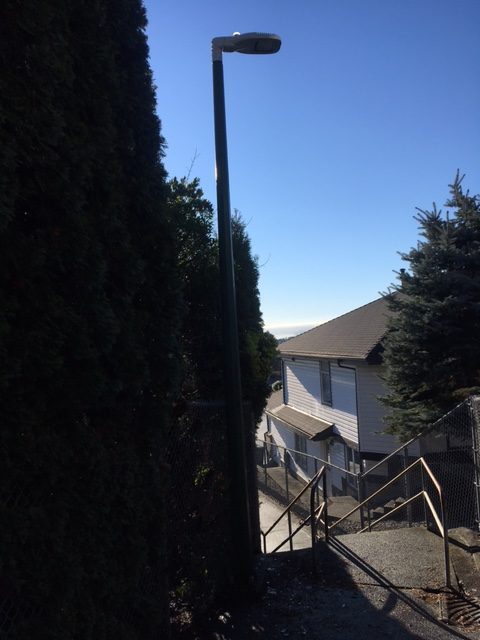 Monster hedge
I'm no stranger to this next property but when the owner texted me, there was urgency in his sentences. His municipality had just stopped by his house to encourage him to push the cedar hedge off the sidewalk. It was encroaching at least 30% into the sidewalk.
Now, this wasn't as simple as it sounds. I had to balance the look of the hedge and still get it off the sidewalk. Remember, cedar hedges should still be green when you finish them. If you want to see some cedar hedge disasters, please read my blog post from December 30, 2021.
I sheared the hedge slowly, making several passes. And I think it worked.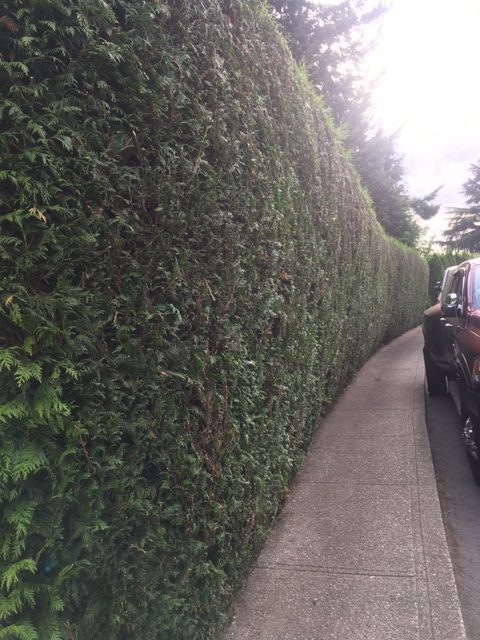 Good neighbors
Check your garden plants once in a while to make sure your neighbors aren't negatively affected. If you need help, call me. I would love to help you.
Be a good neighbor.