Lawn care only?
One of my old clients moved to a nice modern house he built in Coquitlam and he needed someone to cut his grass. Since he already knew me and I had some mow clients in the area, he got me to take care of his lawns.
Now, newly installed sod always looks great. It's fresh and green, just the way we like it. But you have to work at it if you want to keep it looking great. Alas, my client is a busy man. I fertilized and he turned on his irrigation system. Then summer hit and now we have new stricter watering restrictions which prohibit lawn watering until further notice. (Light rain is forecast for Wednesday, two days from now.)
Other problems
The lawns aren't the only issue at this residence. Weeds pop up and take off when they go unmolested. All I can do is make note of it and blog about it. And I can easily upsell it! Now you know my secret. I hook you in with cheap lawn care service and then I derail your retirement plans with weed control charges.
Seriously now, as weeds mature they flower and then produce thousands of seeds. Those seeds then stay in your soil waiting for perfect conditions to sprout; or they're carried by wind to your unsuspecting neighbour's house. Never let this happen.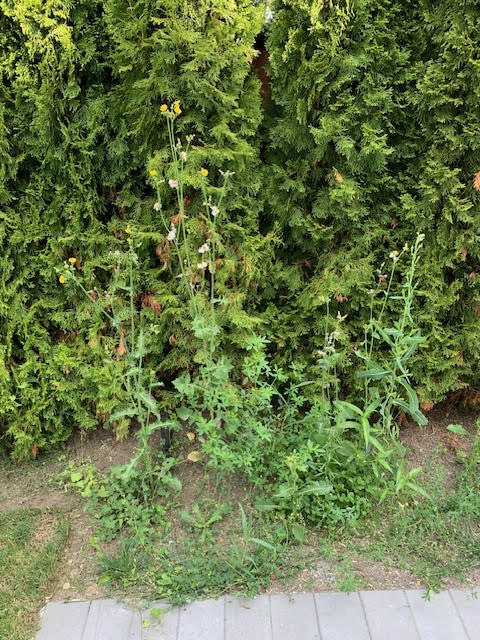 Sale closed
When I sent over my hefty lawn care service invoice, I casually mentioned the trophy weeds that could soon block his drains with seeds. And the client didn't even blink; he hired me for weeding just a few days later. Done. Sale closed.
Next, we will replace dead cedars but not now. It's too hot. We need cooler temperatures and moisture for that. For now, I will feed my teenagers with the extra weeding work I will do.
Conclusion
If you are a homeowner, don't let your weeds flower and produce seeds. If you are a landscaper, don't be shy about upselling other services. You can do more than lawn care: prune, weed, install plants, etc. Win by upselling other services. I can't wait to make my client's house weed-free. For a while.