Use tools!
If you read my blogs regularly you will know that I always try to use tools when weeding. The only obvious exception being huge trophy weeds which are easy to pull but hard to explain. How did they evade detection for so long? Were they out on some hard to reach ledge?
Professionals use tools, not fingers. Years later I'm still stunned by a foreman's request that we all hand pick massive mats of weeds. I literally didn't know where to start. Why abuse my fingers like this?
Grab a cultivator or a small hand tool like a Home Depot tomahawk which retails for $15. I love this tool. I use it to uproot the weeds before discarding them and I humbly suggest that you do the same. Save your fingers for better, more refined activities.
Field test
I am a huge proponent of weeding tools, not fingers. But now that I am of a certain age and my gray hair shows from under my ball cap, some people dismiss me as an old crank. So when I got a chance to run a little field experiment, I was delighted.
Out in the middle of a parking lot, we had two same-sized beds full of weeds. Obviously the weed species didn't match exactly; one had more buttercup which is notoriously difficult to dig up.
On my bed I used a tomahawk to uproot the weeds and then discard them on a nearby tarp. It wasn't much fun weeding in the middle of an open parking lot on a hot summer day with reflected heat hitting me.
Some meters away was my co-worker who stubbornly used his fingers to weed his buttercup-filled bed. Somehow he finished ahead of me and moved on. That's when I snapped pictures of both beds and also moved on.
Five weeks later
I didn't make it back to this parking lot until five weeks later. Then it hit me: go back and check on the weeded boxes from five weeks ago. It wasn't even close!
My bed had a few weeds; most were poking along a cable where tomahawks and fingers can't reach. The hand-weeded bed was green with weeds, confirming what I already knew.
Quick finger weeding doesn't pull out the roots as much as hand tools. You're basically wasting time by eliminating the top growth and leaving the roots behind to regenerate the plant. The proof was right there in the middle of a baking parking lot.
Picture A five weeks after getting hand weeded with fingers.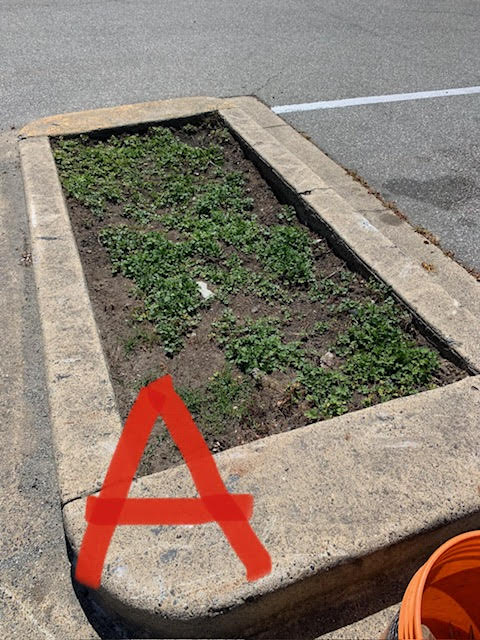 Picture B five weeks after getting weeded with a hand tool.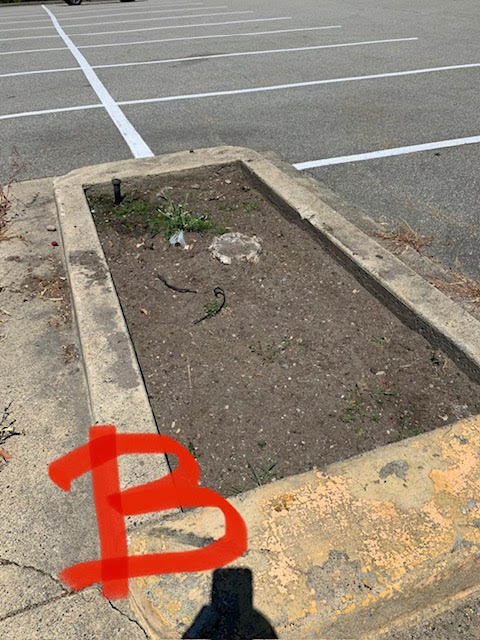 Conclusion
Use tools for weeding. Period.