Ready for some labor?
This isn't the first time I'm mentioning brush cutting in winter. It's a perfect cold-weather task and it shows how labor-heavy landscaping can be. We might as well say it: landscapers get sweaty. If generating sweat spooks you, I would suggest a less-strenuous career path.
The day we went out brush cutting, it was nice and sunny and the goal was to level masses of prickly bramble. It's done once a year and it's nice to put in a full day's work in winter.
Safety first!
The brush-cutting task itself is fairly easy. All you need is some mixed fuel (gas and oil) and protective gear. Do not skip this part. Gloves, steel-toe boots, goggles and a helmet system with face shield and ear protection are all standard equipment. Leave your shorts at home. Don't take any chances.
Since you're working in a wild zone, take a good look around. I spotted rebar sticking out of the ground before I even started. Sadly, the rebar ran all the way along, with gaps in-between, so I had to look out for it all day. Next year I will try to remove it or at least bend it. As it is right now, one slip could really mess you up. See the picture below.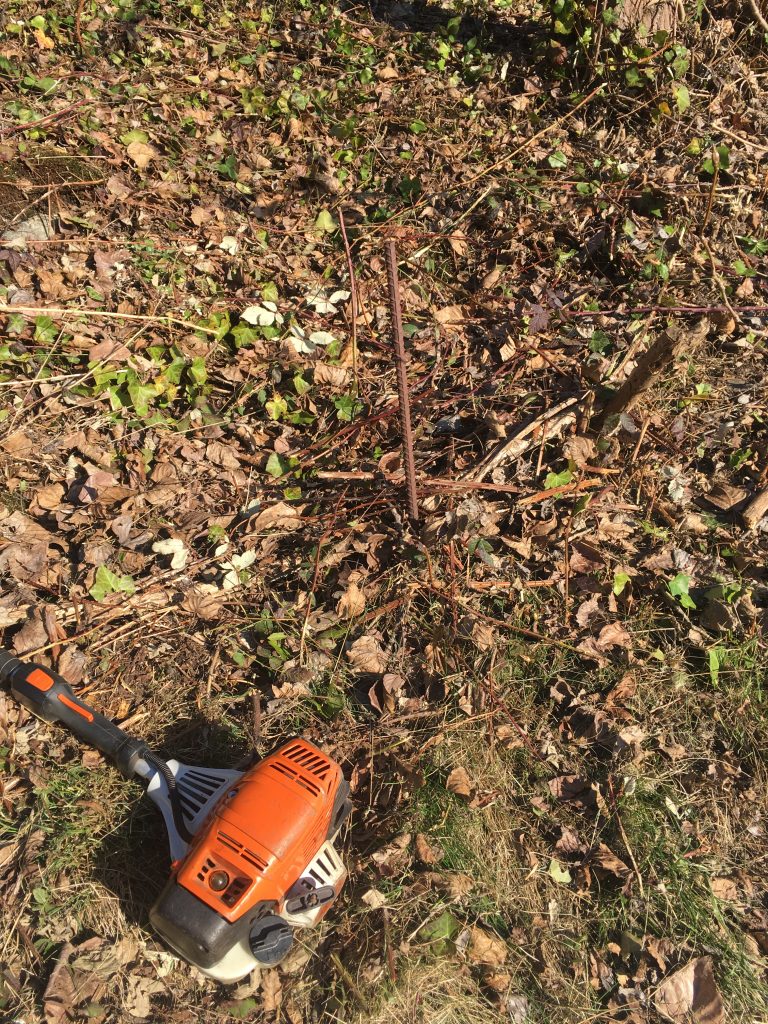 Depending on how low you brush cut, you can expect rocks and wood to fly out. For this reason the three of us separated; and later, when got close to passersby, we paused to let them go. Safety first! Never play around.
The rest of the day was fairly monotonous. We leveled prickly bramble all day and managed to finish the entire wild bank. Given the size of the bank, bramble removal isn't practical. We just left the shredded canes on the ground. We'll be back in twelve months to do it again, unless the boss delegates this task to someone else. But, considering the physical nature and safety aspect of this project, this isn't a good gig for new employees.
What I hope you take away from this blog post is the physical nature of landscaping work, the occasional monotony and the importance of safety.
When we reassembled at the back of the truck, it was clear the dudes were happy to get the bank done. They worked hard brush cutting on a winter day when not too much else could be done on site.