Now what, Vas?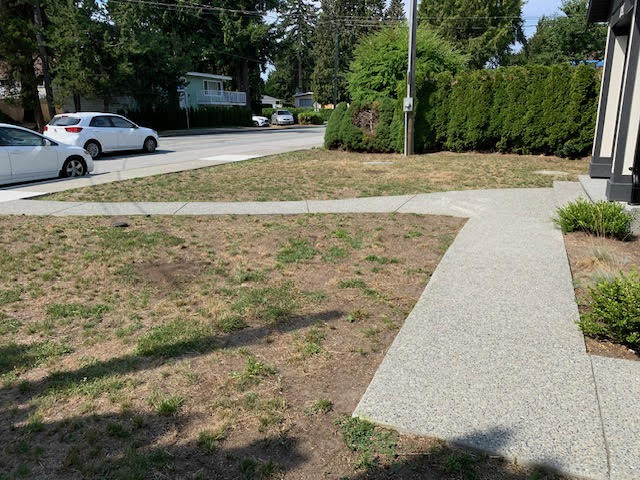 As soon as the owner of this new house asked me what to do about his dry, sad-looking lawn, I knew I would have to pick my words carefully. Since new watering restrictions came into effect on August 4, we can't water this lawn. And water is obviously missing from this picture.
Now, the owner hasn't lived in the house very long and he's been busy with the back lane area of his house. Once the grass faded, weeds moved in. That's usually when people call me with desperation in their voice. They want nice green grass and they definitely don't want long stares from their neighbours. When the man tells me he's embarrassed, I believe him. The yellow-flowered weeds were visible from across the street.
Baby your lawn
Having a nice green lawn takes a lot of work. You must have regular watering, seasonal fertilizer applications and proper mowing heights. And definitely expect to see some lawn weeds. Even golf courses have weeds.
Obviously, our West Coast lawns go dormant in summer and come back with fall rains. So there's no need to stress about your yellow lawn. Except, last year the drought dragged deep into fall and, I think, the forecast is the same for this year.
So, the owner has to wait for watering restrictions to ease up before fixing his lawn. In the fall we can top-dress his lawn with soil and over seed but this too requires water. Fertilizers also require water to activate.
My advice
For now we wait until we get water in the form of rain or irrigation. Since the weeds are tough, they will poke out again and I will run them over to keep them from producing seeds. At least this gives the lawn a decent look, otherwise the neighbours think it's been abandoned.
Yes, you can have a great looking lawn but you'll have to earn it.