My introduction to lawn aeration wasn't the best. My employer at the time, a prominent Lower Mainland landscape maintenance company, forced me to aerate roughly one half of their many strata properties. Incredibly, nobody even told me why we were putting holes into lawns. And the days were so busy I forgot to ask. I was that new to landscaping. It usually took two crews three weeks to aerate all of the properties.
Start with why
Now, many years later, I get to train new workers in the field. Before they even got to touch the lawn aerators, I made sure they knew why they were doing it. Armed with this knowledge, their physical punishment is easier to take. It also limits corner cutting. Once the dudes get tired, the number of holes and their depth decline. Don't let up. Push on.
The one best thing
If you don't do anything to your lawn all year, definitely aerate it in spring. Aeration allows air and water to reach the grass root zone which improves growth. Leave the cores on the lawn. They will disappear in no time.
Home owners without regular landscape service will probably get a knock on the door from a young guy with a pamphlet and machine in the driveway. Most strata landscape maintenance contracts include this service automatically with lime application.
Hands vs machine
If you have a smaller lawn you can easily hand-punch it with a hand core aerator. I love the Fiskars model because it's larger and doesn't get blocked with debris like smaller models. I use it on smaller client lawns where renting a machine wouldn't make sense.
If you have larger lawns, you will need a machine unless you have a teenager at home with energy to burn. It's fairly simple to operate. Just remember to slow down as you approach pavement and fencing. The big hog needs a second to slow down.
The machine comes with weights so use them to get nice deep cores. Skip the extra weights if your lawn is soft. Remove them when loading and unloading the machine!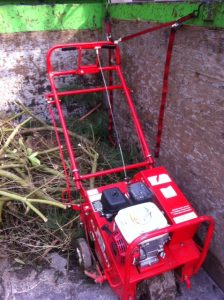 Conclusion
Let's review. Lawn aeration allows water and air to reach the grass root zone and should result in a healthier lawn. If you don't do anything to your lawn all year, at least aerate it. It's worth the effort. Your lawn will thank you for it.