There is one gift every landscaper loves to receive: a nice new set of Felco snips! I got one recently for my birthday from my boss and it felt better than Christmas. Here's why. When they are securely placed in a sheath on your belt you look professional, they make excellent cuts and they're always handy.
Swiss quality
My favourite Swiss-made Felco 2 snips feel great in my large hands and they cut perfectly. There are many models to choose from but the 2s are perfect for fit and price. There are also many other brands on the market but when it comes to snips, Felco rules.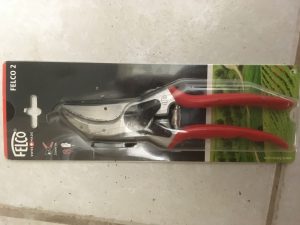 The sheath
Most landscape professionals keep their snips handy on their hips, nicely parked in a leather sheath. The sheath is absolutely crucial. Snips nicely nestled in a sheath are always available. When I put my work pants on in the morning, there follows my belt and sheath. That way I know my snips are ready if I need them and it also minimizes my chances of losing them.
Keeping sharp snips in your pockets is awkward and dangerous. I find that without a sheath I inevitably leave my pricey trusted snips sitting on a post or fence. A few seasons back I did some weekend work for another landscaping company and I left my Felcos in one of their trucks. I have yet to get them back.
Yes, leather sheaths will cost you around $20 but it's worth it. You look more professional and you lower the chances of losing your snips.
One tip: don't forget to clean out your sheath. I recently discovered a lot of soil in my sheath. Enough to sustain a small plant.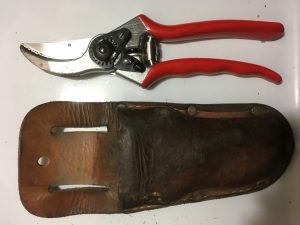 Parts
The spare parts kit includes a new blade and a new spring. You can expect the spring to blow up first. It usually gets old and one day it just falls out.
The blade can also be replaced but you have to time it like you do your car's oil changes. Otherwise, the bolts gets so dirty they are almost impossible to loosen. This happens to me all the time. When I notice that my blade should be changed, I can't loosen the bolts holding it in place.
The Felco handles are almost indestructible.
Always ready
It happens to me all the time. Out in the landscape I notice a broken branch and out come my snips. Every time I need to cut line edger line, I use my snips. When the boss takes me for a walk and he notices a blemish, it's important to have snips at the ready. Or when I apply lime and fertilizer, the snips easily penetrate the plastic covers when I have to reload my spreader.
Having a pair of quality snips on your hips also makes you look more professional.
Conclusion
I absolutely love my Felco 2 snips. They're sharp, they last and they feel great in my hands. I always have them on my hip in a leather sheath. I also feel like a professional with a nice pair of quality snips.
Felco snips are the best gift you can give to a landscaper!