Tree staking seemed really easy to understand and pull-off. Ever since I started landscaping in 2000, I've used two or three stakes with good quality arbortie to stake newly planted trees.
But now, thanks to my landscape professional friends in the United States, I know that there is more to staking than meets the eye. And I love the idea of learning new techniques even twenty seasons later.
Pro tip: Always be open to new ideas and techniques. There's so much to learn.
Regular staking
I have had lots of practice with tree staking because I have twenty seasons in the field; and because I went through the Landscape Industry Certified program. There, one of the practical stations was tree planting and staking. Let's ignore tree planting for now. I will cover it in a separate blog.
Depending on the specifications, I had to drive the tree stakes just outside of the root ball or inside. To pull it off, you'll need a metal stake pounder and ear protection.
First, the pounder goes on the top of the stake and then you stand it up, line it up and drive it in. As the metal pounder hits the stake, it gets very loud quickly. That's why my failure to wear ear protection during testing cost me points.
Incredibly, I would need three attempts to pass this practical station.
Second, you secure good quality arbor tie to the stakes and loop it around the tree. It should be just tight enough; not too tight and not too loose.
Pro tip: Tree stakes should only stay on for a maximum of 14 months. Beyond that the tree will get "lazy"; it won't form the reaction wood it needs to grow strong and withstand future wind storms.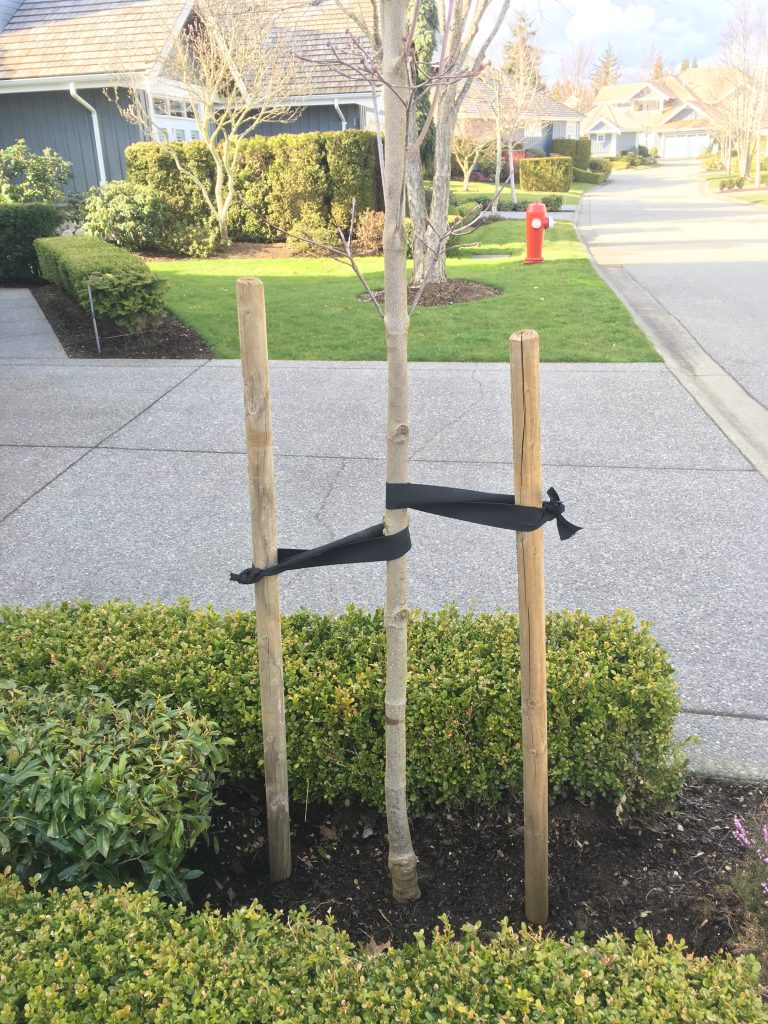 Staples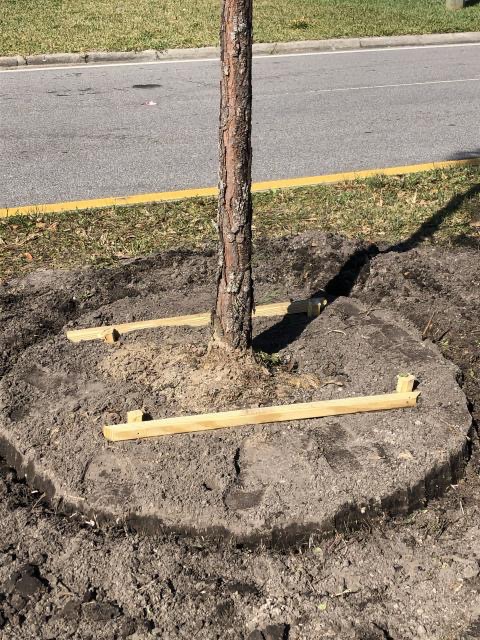 This was news to me. Instead of above-ground stakes this pine in Florida is stapled with stakes. First, four stakes are driven into the root ball and then both pairs are connected together.
Obviously, the wood size would increase with a bigger root ball. Here it's a 2×2″.
Advantages
The stakes are mostly hidden so they don't stick out like regular wooden stakes, which many people consider unsightly.
The tree develops reaction wood as it moves in response to wind events. In this example, the pine survived a recent hurricane storm that hit Florida.
There's no need to go back and remove the stakes.
Nobody will forget to remove the stakes.
There is zero chance of girdling because there is no arbor tie connecting branches to the stakes.
Conclusion
Keep your eyes and mind open to new ideas and techniques. I was blown away by the stapling technique even though it's not new. It was new to me and I would love to try it one day.