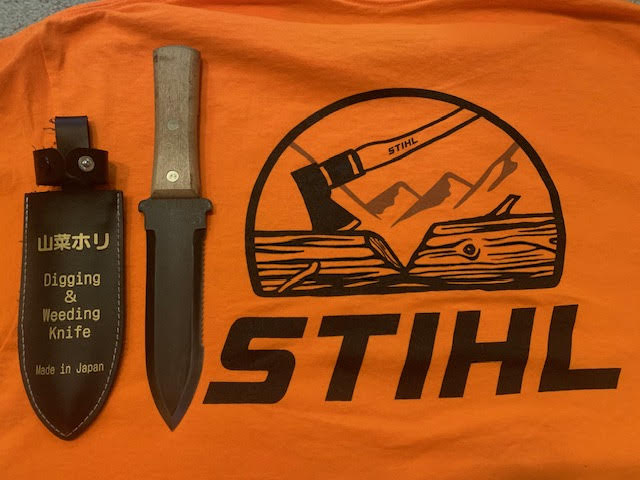 From Japan, with love
It used to be that only my trusted Felco 2 hand snips would hang on my belt. But now my belt also supports the Japanese hori-hori knife. It's very sturdy so you feel its weight a little bit, it has a sharp tip like most knives and one side is serrated. This comes in handy when you are dividing perennials in the fall.
The knife also bailed me out yesterday when I was taking out dead cedar trees. Since I forgot to bring a shovel (don't ask!) I was able to stick the knife in the ground and find the roots, which I then severed with my hand snips. I hate to do this with my hand snips because they get dull quickly. The hori-hori knife is designed for dirty work. It's also sharp enough to slice through thin roots.
Who needs a shovel? I used the knife to stab a circle around each cedar and the extraction went well after that. All six trees were dead and fairly easy to extract.
Pro tip: leave the bottom portion of the cedar stem standing so you can use it as a joystick during removal.
Extras
This project sounds super easy, and it was. But it also highlights the importance of extras. Normally I only maintain the front of this eight unit complex, once a month. And if you stick around long enough, do a good job and get to know people, they will give you extra work.
No, I didn't get rich from this side project but it did pay off a portion of my recent chainsaw attachment purchase.
Other uses
The hori-hori knife is labelled as a digging and weeding knife. It's a huge gift if you work with freaks who insist on weeding with their fingers. That's because we need to uproot the weeds and the sharp hori-hori knife is perfect for this work.
I get involved in this debate every season: weeding requires tools, unless you're only hand picking massive trophy weeds. Professionals use tools! And as soon as I say it, people get sidetracked wondering if Red Seal Vas is a professional instead of focusing on weeds.
Personally I find hand weeding with my fingers very taxing on my fifty-something hands. Why abuse myself when I can uproot the weeds with my beautiful $30 hori-hori knife.
Sheath
You will need a sheath for your hori-hori knife because it's sharp and you're less likely to lose it. The Japanese got it right by making a closed belt loop sheath. Lee Valley got it wrong by making a button belt loop. It took me literally five minutes in the field to lose the knife because the button closure is too flimsy for non-stop landscape activity. Don't buy this belt loop; get one that's closed.
Conclusion
For $30 the hori-hori Japanese digging and weeding knife is a great tool to hang on your belt right next to your snips. You can use it for weeding, dividing perennials, digging and to keep degenerates away.