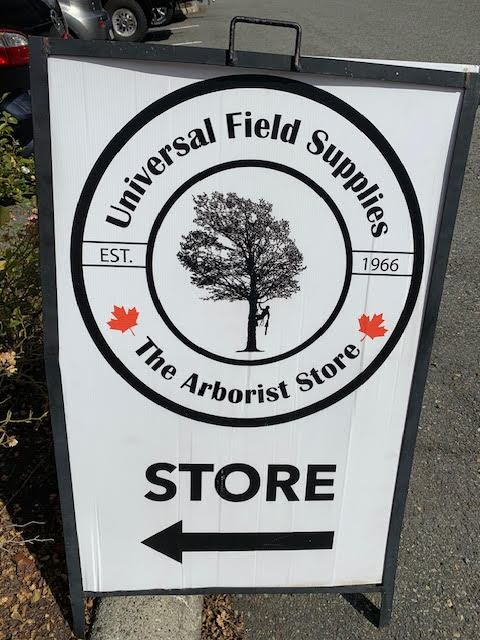 Why care?
As you visit this blog and read the headline, you'll probably think "why should I care about an arborist store?" It's not like I'm an arborist; I hire those people in shiny helmets so they can charge me exorbitant sums of money for tree and shrub maintenance. Hold on, let me explain.
It's important to know where your nearest arborist store is because they sell quality, sharp hand saws, snips and loppers; tools homeowners are most likely to use. Yes, the big box stores carry those tools but they're not as good. Go for quality so you can make great cuts, every time. It happens to me every year: I show up at a client's place and they eagerly push their own tools on me. The hand saws have rust on them and finger prints from the Second World War. So, I politely decline the offer and use my sharp hand saws.
Getting there
The arborist store in located in an industrial area on 1515 Broadway Street, unit 605, in Port Coquitlam. I didn't find it easily but the outdoor signs helped. The store itself is nice enough. It's like a candy store for arborists.
I was there to buy a pole pruning attachment and not seeing prices on the items was annoying. It forces you to check the price on every item with the dude behind the counter. I found what I was looking for but it wasn't cheap. However, I expect to get my money back after a few tree jobs; it's an investment so I didn't cry about it.
Then I noticed a Japanese hori-hori knife for weeding and pruning; and for protection from degenerates. I also love the sheath which attaches nicely to my belt. Months earlier I purchased a smaller knife at Lee Valley but, incredibly, the sheath had a button on the belt loop. Clearly, the designers don't work in the field. It took fifteen minutes for the button to fail and the knife slide down my rain pants. This is a major fail. The Japanese got it right!
Exit
Before paying I registered my business with the store and now, as I suspected, I'm getting weekly junk mail with discount codes. I also picked up free stickers before snapping a few pictures and leaving the store. Obviously, professional tree dudes know this store well but I would argue that homeowners too, should get to know it. They can buy good quality, sharp tools here, from snips and hand saws to loppers.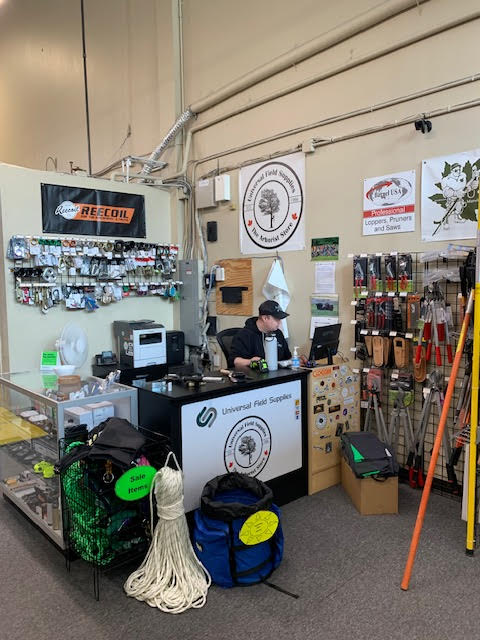 I bought my pole pruner attachment so I can do easy tree work. The Japanese hori-hori wasn't exactly a required item but I do like the knife. You can weed with it and divide perennials.
You don't have to be an arborist to visit this store. Walk in and check out the sharp tools on the wall right in front of the cashier. Pay extra for good quality.