I always buy my work boots from Stihl because I love my Lawngrips. They're designed for landscape professionals: they look great, they have anti-slip soles for lawn surfaces and they cost just over C$100. I normally buy at least two pairs every season. You can read my review of the boots from April 2017.
The unthinkable
This past January I did the unthinkable: I bought a different pair of boots. I walked into my neighborhood work wear and safety store to see if they had any sweatshirts on sale and then it hit me. I was wearing the cheapest Wal-Mart rubber boots because my Stihl boots had lots of cracks. That's not good.
As landscape supervisor I have to set a good example and look good for our crews and clients. My cheap rubber boots didn't have steel-toes and cracks in my boots were unacceptable.
Then I saw  JB Goodhue Guardian 14202 boots on sale for C$69. What a steal. I tried them on and bought them because they fit my winter budget and they were right there, ready to come home with me.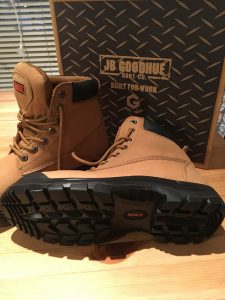 The Lawngrips are harder to buy because they're only available from Stihl dealers and I have to travel much farther to get there. Assuming, of course, they have my size. But, if you love the boots like I do, you will overlook this.
In January I was a busy soccer Dad budgeting for an international soccer tournament in Las Vegas. If I had to cheat on my favourite work boots to save some cash then so be it. I did feel strange walking away with different boots.
Review 
The biggest surprise is how soft my heel strikes are. I've had work boots before that were super stiff but not these. When I walk, the heel strike is soft. I really like it.
The look is fairly plain; I miss my Stihl logo on the side.
I did experience some discomfort above my right ankle for about three days. It scared me because sometimes suspicious boots go on sale. But, as it turns out, I just had to break them in and now, weeks later, they feel fine. Actually, I had no choice but to break them in because of my budget and because I'm a dedicated landscape blogger.
Specs
You can see the specifications for my Guardian 14202 boots on the company's website.
Conclusion
If money is no object and you are a professional landscaper then buy the Stihl Lawngrips. If you enjoy saving money, JB Goodhue's industrial Guardian 14202 boots are a great choice, especially in winter. The boots kept me nice a cozy last week in freezing morning temperatures.
Note that my Guardian 14202 boots were on sale for C$69. The regular retail price is C$114.99. At that price I would go for the Stihl Lawngrips every time.