Quote accepted?
Frugal husbands can cut into your landscape company's revenue. Take this example from last week.
I knew something was up when I tried to schedule pruning work with a residential client recently and there was no reply. Last year we settled on a quote and agreed to do the work when it got warmer in 2022. Now I was ready to go.
So, this week I stopped by to aerate the lawns and the pruning work had obviously been done by someone else. No wonder my kids often go hungry…..
Aeration first
If you don't do anything to your lawns all year, at least aerate them in spring. This allows more water and oxygen into the root zone and should lead to a healthier lawn. Since this residential client is a referral from a friend, I did the aeration for $50, which includes a courtesy clean up blow. I also blade edged the front lawn edge to give the lawn a sharp look.
Then, when the lady came out to talk to me, she quietly mentioned that her husband brought a friend over and they did the pruning themselves. To save some money.
Beware of the frugal husband!
As an aside, she mentioned that the men were a bit shy about pruning the evergreen cones because of their phallic shape. I smiled politely. I've seen worse.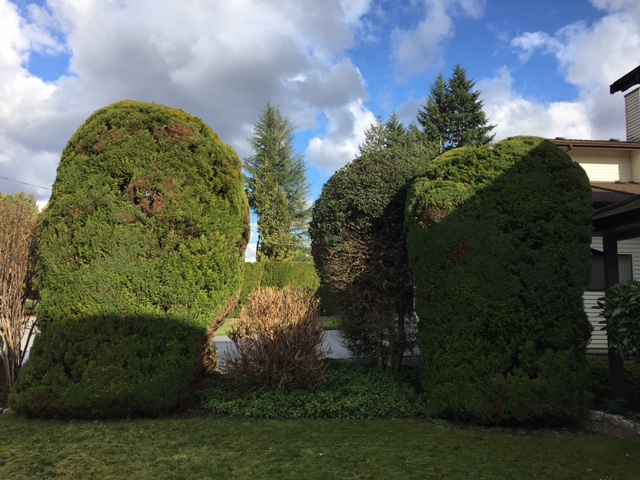 A lesson for homeowners
Homeowners can do great work. Yes, Red Seal Vas is a proud professional but I've seen homeowners plant and install mulch quite well. It's nice to see them outside, doing physical work and saving a bit of cash.
That's why I love to work with clients because you can teach them something and develop a long-term relationship. Customers only care about pricing and will drop you for anybody who is slightly cheaper. I try to stay away from them.
Allegedly, our frugal husband did some of the pruning from his roof, which I don't recommend. But let's be honest, he did a decent job and he saved himself a bit of cash. I told his wife, "we'll keep him".
A lesson for landscapers
There is a good reason landscape contractors love multi-family (strata) complexes and commercial properties that go all year and come with set contracts: they get paid monthly. Residential clients on the other hand, can decide they don't need you one week or they save money by doing some of the work themselves.
All good!
I did lose a bit of cash on this pruning job but, at the moment, there is no shortage of work. I did squeeze the lady for aeration and it gave me a great blog post idea.
Homeowners can do decent work on their properties. It's all good.