Observation
I love going back to sites and seeing how my plant installs are doing. We know it's not always good news, like the case of my yew screen. I always feel responsible for the plants, as if they were my dependents.
The line of Portuguese laurels (Prunus lusitanica) shown below is doing well. We didn't lose a single specimen, which is fantastic. We're finding that Portuguese laurels do much better in heat than cedars (Thuja occidentalis). Also, note that the heights are mostly uniform because the light levels are fairly even.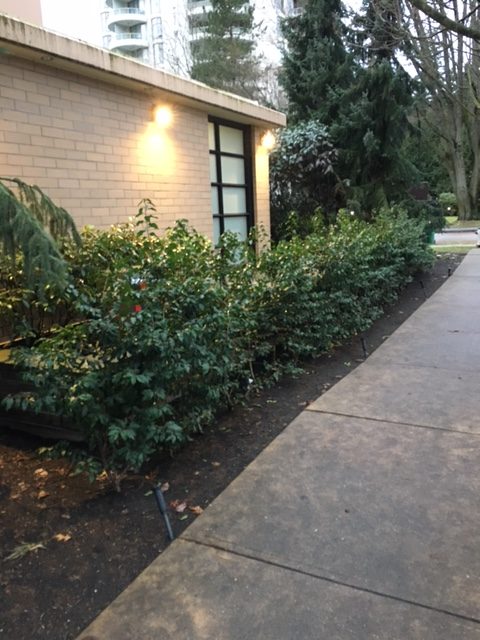 English laurels
Now let's walk away from the Portuguese laurels, around the corner to the back, and see a line of English laurels (Prunus laurocerasus).
What do you notice here? The plants are doing fine; they're clearly receiving water from nearby sprinklers. However, you will notice how slanted they are. The left side is doing extremely well, while the right side looks like the youngest sibling. I planted them all at the same time. The big difference is the nearby Japanese snowbell tree (Styrax japonicus). It clearly shades out the laurels on the right and competes with them for resources.
That's basic plant biology. Plants need access to light so they can produce food in their leaves through photosynthesis. Less light means less food. The effect of shading is nicely visible here. Not as obvious is plant competition where the roots compete for resources.
Changes
You can leave it as is, or, you can prune the laurel hedge to even it out. Another option is pruning the trees around the hedge, mainly the Japanese snowbell nearby. If the unit owners are worried about privacy, you can just thin out the trees by removing selected branches. Raising the crown by eliminating the lowest branches is more obvious. Both pruning procedures would allow more light in.
Always check with the owners before making significant changes.