Last summer visit
It's a lot of fun checking in on old projects to see how they are evolving. At one site we have a long yew hedge to provide privacy for windows.
Originally, the line was planted with cedars (Thuja occidentalis), but they kept on dying and had to be replaced. And as often happens, people get tired of planting the same cedars over and over, only to see them die.
Yew switch
So, we switched to yews (Taxus) because they do better than cedars, especially in hot summers. They also produce red cones (not berries!) which give us something to look at.
I did the switch personally, so I know how much labor was involved.
First, I had to dig up and remove the cedars. Then I had to go pick up the yews and install them. I believe the project cost something like $1,600.
We lost one or two specimens over the last few seasons, which is manageable. When I visited this past summer- remember, I float around as a working manager at my day job- the yew hedge looked great. It was green, healthy, and did the job of providing privacy for a row of windows directly behind it.
When I walked by, I told myself that Red Seal Vas does great work. (Never blow your own horn out loud.)
Fall drought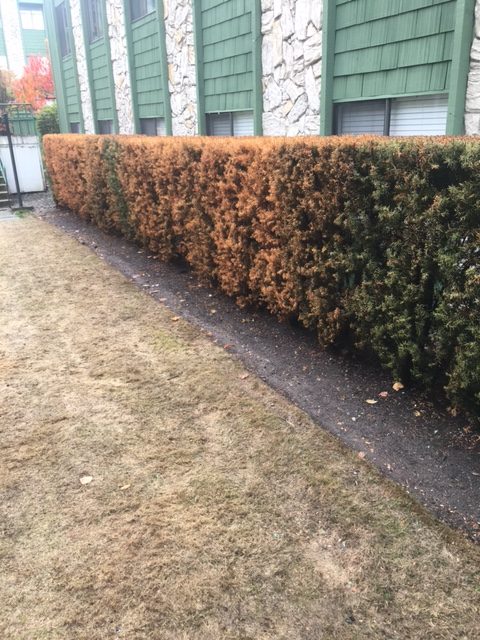 When I went over to help out this past fall, I nearly cried. Most of the yew hedge was brown and dead! What happened?
This fall we had drought conditions on the West Coast. There was so little rain, many dormant lawns didn't fully recover before cold temperatures hit and mowing stopped. I had never seen that before.
Now, people are busy working and paying for their overpriced housing. Since they're used to automatic fall rains, nobody bothered to water the plants. Including my prized yew hedge. Sadly.
And it gets worse. The manager had asked our foreman to clip the top of the hedge even though power shearing in drought conditions is a bad idea; you're just adding stress. Instead, water the hedge frequently and prune it in fall, when it's cooler and wetter.
2023
I have no idea what will happen to this yew hedge next year. Now that this blog post is finished, I fully intend to push this hedge out of my mind. The waste of labor and money is stunning. It might be time for people to start getting used to changes brought on by the Global Climate Emergency.