Winter can be a great time for practicing your plant identification skills. The work days aren't as hectic and the winter season offers a different look. Walking through your landscapes, you might notice a plant and realize that its name escapes you. I know all about it. It happens to me lots. At the worst moment, too. Like when the boss arrives on site.
Let's look at a few examples.
Pinus contorta subsp contorta (Shore pine or Lodgepole pine)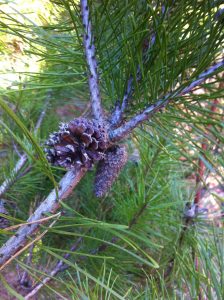 This is a commonly used pine in our West Coast landscapes. Plant ID hints: a) The needles come in pairs and b) the cones have sharp prickles on their scales.
Hibiscus syriacus (Rose of Sharon)
You must be familiar with the Rose of Sharon flowers. But what about winter? What we are seeing is dehiscent seed pods. This means that the seed pods open along built-in lines to release their contents. In this case, the seed pod opens into five distinct parts and the seeds spill out.
The seeds are actually very cute. They are almost heart-shaped with hairs. I saved some and if I find time, I will try to grow them.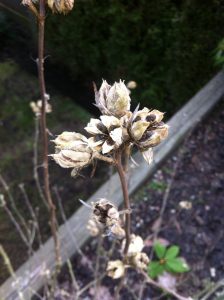 Choisya arizonica (Aztec pearl)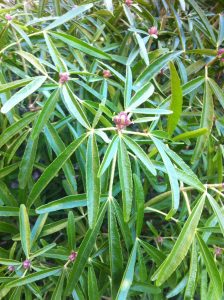 You will be familiar with Choisya ternata which has bigger leaves. This shrub has finer greenery and its white flowers are equally as nice. This is the one plant I had trouble memorizing until I saw it at last year's CanWest Hort Show in Abbotsford. Now I try to associate it with Arizona.
Ophiopogon planiscapus (Black Mondo grass)
Full marks if you remembered the full species name! I love this plant because it's so dark. New foliage is dark green. It produces bell-like summer flowers which turn into black berries. The Black Mondo grass in this photo is a great border plant close to a clubhouse.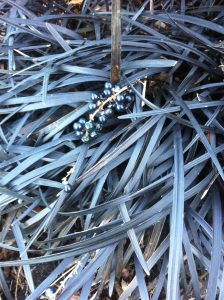 Sambucus racemosa (Red elderberry)
I remember this tree-like shrub well because we have hack it up every winter so it doesn't go too wild on our strata properties. It looks bad for a while but the shrubs look fine in spring. It can grow 2-6 meters tall. Because it has soft stems with a pithy center, you can cut through most canes with your Felcos. (For my blog on Felco snips click here.)
Flowers appear at the ends of branches and are visited by butterflies and hummingbirds.
Now check out the sister plant Sambucus nigra (Black lace). This species is planted in people's yards, not in wild zones, because it's stunning. The first time I saw it in White Rock I was hooked. It took me a while to realize that this plant was related to its sisters in the riverbed zone. The sisters I rudely demolished so they wouldn't grow out of hand.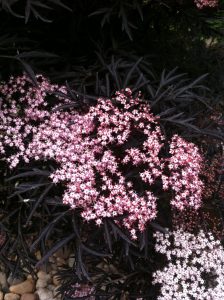 Winter can be a great time for plant ID skill work. Give it a try. You never know what you will discover.