Making the best of it
Nobody suffers more from January blahs than I do. I hate January because the landscape is very quiet and snow interrupts my work. I'm also terrified of driving on snow; so terrified, some have started calling me a "snow pussy", but that's off-topic.
When it snows, I'm usually stuck at home, creating new blog posts. But I also can't say no. So, when people are short of laborers and they call me to come help, I do it. I have my daughter's braces to pay off!
Snowblower
Using a snowblower is surprisingly fun. First fill up your gas tank. Then, put the key in, hit the primer button a few times, engage the choke and pull the cord. Once the machine is running and warmed-up, pull it out by selecting the speed or reverse. The left handle lever drives the unit; the right hand lever engages the blades.
When you're ready to clear your sidewalk or driveway select the proper speed; 3-4 was ideal for me, 5 was great for moving from one area to the next, 1-2 are very slow and recommended for loading and unloading the machine.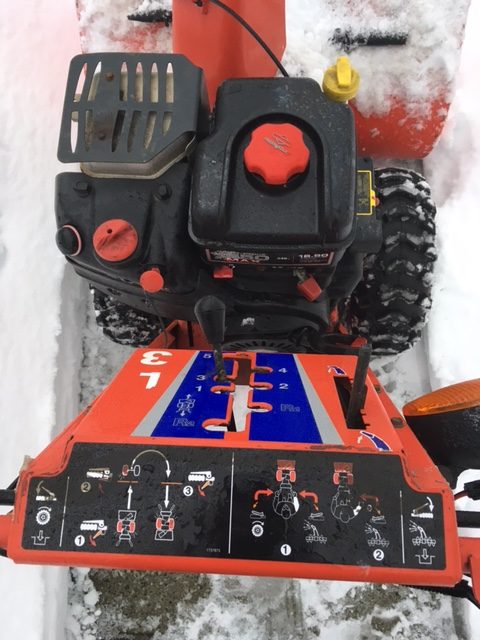 Nozzle fun
The biggest question is where to direct the stream of snow. Slow down and think about it. Burying a public roadway is not a bright idea. Adjust the nozzle as you go. For example, I switched the nozzle stream from right to left when I got close to a bus stop bench.
Warning: there is a warning sticker on top of the nozzle, reminding you that sticking your hands in there can lead to amputations. Once, when an icy column fell out of the nozzle, it dislodged a brush resting on top of the drum, and shredded it into five pieces. You've been warned.
A note for prospective fathers
If you hope to father children in the future, watch for sidewalk imperfections. Sidewalks tend to lift around large landscape trees so use that as a hint.
I suspect I will not be having any more children and God gave me very average equipment, but still, not one of my collisions with the machine was pleasant.
Face your fears
Once you get used to the machine, it becomes a fun way to make money and lose weight. And it saves your back and arms from a beating. Normally, I don't care for machines but this beast of a snowblower gave me hours of fun. And my daughter is happy to finally have her braces.
If you're in the market for a snowblower, please visit one of the Foreshore Equipment dealerships. Tell them Red Seal Vas sent you!