Bittersweet
The first time I noticed the word bittersweet used in reference to trees was in Japan. There, the famous cherry blossoms make people delirious; some follow the blossoms from south to north, like junkies craving their next fix.
Why bittersweet? Because like life, the cherry blossoms are beautiful but they don't last long. Cheery blossoms in Japan are a must-see item for your live it bucket list. Especially if you go to ancient Kyoto in spring.
Leafiness
When it comes to fall leaf clean-up, bittersweet refers to that moment when you get maximum leaf drop and you know you are about to suffer for one more day. It's also one of those moments when hearing about attempts to ban leaf blowers seems like a cruel joke.
This past fall has been the most difficult of my twenty-plus landscaping career. It rained heavily for months; it was so bad, I don't even remember blowing any dry leaves. I would call it a suffer-fest.
All at once
When the weather network announced high winds for one of our fall weekends, some of my co-workers lit up the company WhatsApp, excited about all of the leaves falling in one weekend. And they did! Except, it also rained and the resulting Monday morning mess almost broke us.
I had two helpers for mountains of soggy leaves and it was hard. We cleaned-up leaves from 8-6pm and, because my son had soccer practice at 7, I had to leave at 6. Soccer or no, I would have left anyway.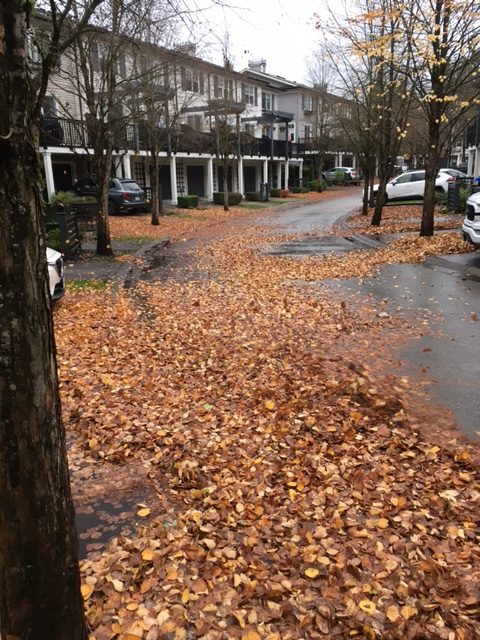 Grinding
Knowing that this was our last big day was little consolation. And we used Stihl's bad boy 800 model leaf blowers which have high air volume and air pressure. They blow away insects and garden gnomes like nothing but on this day, they too struggled.
And right here is the key point: current battery-operated technology isn't good enough to handle this kind of leafy mess. It would have taken hours longer and I don't even know how many battery packs we would have gone through.
The National Association of Landscape Professionals recently made this point to the State of California, which is considering a full ban on gas-powered small engines.
Nasty fall
Leaf clean-up on strata properties is hard work and when the weather turns bad, it can get even harder. For now we use gas-powered leaf blowers because they can handle the load. Once the battery operated technology improves, I will be the first one to test it in the field.
As I write, Christmas is one week away and I'm looking forward to some much-needed down time. It was a long, strange year. When this blog post is published in February, 2022, we'll be closer to spring. Spring! I can't wait.