Since I challenged the Red Seal Journeyman Horticulturist exam, I missed out on the four winter school sessions all apprentices are required to go through. (I didn't miss out on the hard work but I did avoid EI collection.)
It was interesting to catch up with Branden Dallas who was putting in his first work day after completing level two of the four year apprenticeship program. I asked him a few questions. His answers are edited but they follow the notes I took during our talk. This might be of interest to workers interested in taking the four year horticulture apprenticeship program. The program is win-win for all parties. The apprentice gains work experience and Red Seal status, the employer gets a decent worker for four years and, hopefully, beyond. Canada gains trained trades people.
V: Can you tell us about the program set-up?
B: The winter session at Burnaby Continuing Education goes for six weeks starting in early November. My employer sponsored me by employing me during the season, by completing all paperwork and by covering the $1250 school fee. While I'm in school, EI covers 55% of my regular pay. EI application is done by the student. There is a final exam to sit, three hours long. Course passing mark is 75%. Final grades are sent through e-mail.
V: What was your typical school day like?
B: The school days are Monday to Friday, 9 to 3:30 pm with one hour for lunch. We had four different instructors. Field trips happened at least once a week and I enjoyed all of them. In class we followed a printed manual and books like "Botany for gardeners". [ By Brian Capon]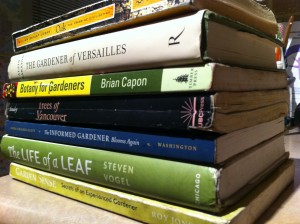 V: What was the best part of the school session?
B: Definitely machines. Machines like backhoes. I wasn't the best in class at it but it was a fun challenge. We built up soil in a bed close to the school.
V: What was the worst part of the school session?
B: Soils! The instructor was a Ph.D. candidate and he crammed a lot of soil science into a few classes. My head was spinning at the end. It was dry.
V: What are your future plans?
B: I will work for my employer all year to gain important landscape work experience. Then I will register for level three of the program this winter.
If you are interested in landscape horticulture this is a great program for you and your employer.