Once in a while I see an interesting question on Quora.com which I think deserves its own blog. This blog covers the following question: What's the best training for a landscaper?
Face your fears
By far the best training for a landscaper is working in the field under an experienced foreman who is willing to train you well. Ask about this in your interview.
Yes, you can mow grass all season but it's better to learn everything. You can learn to use all lawn care machines and then move on to pruning with power shears and bedwork.
It's important to face your fears. Like I did today. I had to use a brush cutter, a pole chainsaw and a wood chipper.
School
If you think landscaping is still your dream gig, then take landscape horticulture courses. You can do it online, full time in school or as an apprentice aiming for Red Seal status after four seasons. Schooling increases your knowledge and your value to your company.
I also recommend getting Landscape Industry Certified. This used to involve written and practical exams but the practical exams are getting eliminated in the United States. In Canada, the practical testing will stay but there will be changes from 2020.
And don't forget about trees. Take the International Society of Arboriculture (ISA) exam and learn about trees. This will increase the value you provide to your company. It also allows you to work year-round because tree pruning is done in the off-season.
Some clients are also touchy about their trees. Non-arborist landscapers aren't always trusted with tree work. Get ISA certified. I've done it. Trust me.
Reading
Read the best books, magazines and journals and attend conferences. Training never ends! I regularly attend evening courses, for example, at Van Dusen Botanic gardens in Vancouver. I've also been to client education days put on by Bartlett Tree Services.
And I never miss the premier landscape horticulture trade show, CanWest.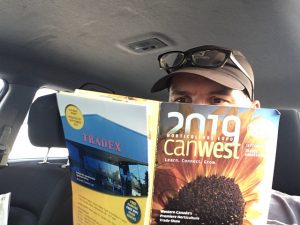 Best for last
You can get the best education for new landscapers by following my blogs, here on the Proper Landscaping site and at West Coast Landscape Professional. My eBooks are available at Amazon for spare change. Search for Vas Sladek on Amazon. Don't forget to leave reviews.
Landscaping can be extremely rewarding if you work and study hard under a professional foreman who is invested in your development. Good luck!