No time to stop
Landscaping work in the private sector is driven by profit, and it's very difficult to generate profits if your workers stop to notice details in the landscape. It's go, go, go all the time.
This past summer I was helping at an older site, predictably populated by mature trees. And right at the entrance to an inside planted courtyard stand three mature small-leaved linden trees (Tilia cordata).
Now, as I made passes through the entrance, I noticed something different in the air, but I pressed on with my regular lawn care duties. Lawn care is always done first.
Asian mommy
Just as I passed under the lindens, a lovely Asian mommy walked up with a baby stroller, and she had a huge grin on her face. I also noticed, in passing, that she could have been a model for Lululemon tights. That's all can say in a family blog.
So, why the grin? The fragrance, of course! The lindens easily overpowered the smell of my gas-powered machines. Then the lady stopped her baby-stroller and asked me if I had noticed the smell. Of course, I had. Vaccinated against COVID, my sense of smell was totally fine. I just couldn't describe the smell.
Tilia flowers
The small Tilia cordata yellow-green flowers come out in early summer. You can easily identify the tree species because under the flowers is a bract. The flower scent is rich and heavy, says Wikipedia. And it really is. It can put a smile on your face.
The fruit is a dry, nut-like drupe.
Lindens are native to Europe, and they're deciduous trees growing to 20-40m. The specific epithet "cordata" means heart-shaped and refers to the leaves.
Lindens are disease-resistant trees and they're used as ornamental trees. Thus, their placement inside a high-profile corridor. I wonder how many more residents had noticed the fragrance.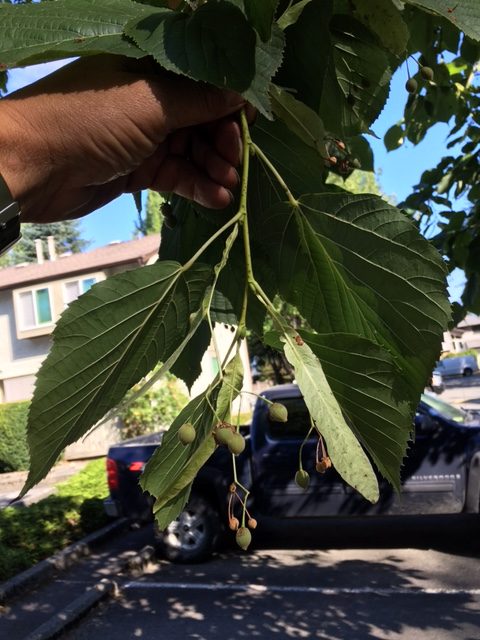 Watch out for linden trees in your neighborhood early this summer. See if you notice their amazing fragrance. If you're lucky, your neighbors will alert you.