Picture landscape pro Vas in a meeting, standing with his boss in the garden liaison's garden. She's looking at one of her pots and mentions that she would like to get more of these plants on her site. Sure, what are they? She had no clue so the boss turned to me. Come on, Red Seal Journeyman star!
Blank
And I had no clue what it was. There were green heart-shaped leaves in a pot. This is one of those nightmare scenarios because you're trying to look super knowledgeable and your brain goes blank.
It got worse in the forest buffer zone when I couldn't recall the native shrub Sambucus racemosa. Oh, well, you just have to laugh it off. I could only recall the beautiful S. nigra.
Sun King
Do you know this plant?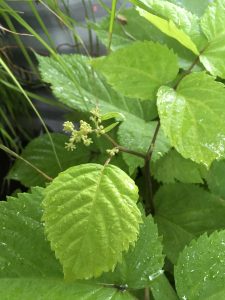 I failed the patio quiz but now I know one more plant. No big deal. This is Aralia cordata Sun King (Japanese spikenard).
It's evident that this garden liaison had done her homework. Aralia cordata is perfect for pots in partly shaded patios or entryways. This is exactly where this plant is. It's in a pot just as you walk in through the gate onto her patio. Trees above provide lots of shade.
The leaves are bright gold colour in summer which brightens up this gate area nicely.
Flowers come in mid-spring are followed by black ornamental berries. Expect the foliage to die back to the ground in winter. Clean it up nicely and wait for spring to bring the Sun King back.
This potted Sun King is in a woodland, Japanese-style garden and near-by are ferns, sedges and Hydrangeas. The Sun King works well with woodland perennials and hostas, all of which like shade.
In the end we managed to find and install a few specimens of Aralia cordata Sun King on this site. I doubt I will forget this plant again.
Keep working on your plant ID skills.