Smile
I hate snow but there's no point crying about it because I can't control the weather. You just have to make the most of it, like I did today. It's still November and regular landscape maintenance work got obliterated by snow. So, I made a few phone calls and got ready for work.
I got picked up by snow mercenaries like me at 8 am and we pushed snow off sidewalks and mailbox areas. Since we didn't have a snowblower, we just shoveled the useless white stuff out of the way. Yes, it can be tiring, especially when people compact the snow. But, hey, it's good exercise and we're making money. We're also making sure kids and the elderly are safe.
One of my crew members dropped her shovel at 9:30 and declared, " I need a drink". She meant juice, not alcohol, so we drove to a nearby mall for Starbucks and a washroom break. Always stay hydrated.
Once the snow was gone, we put down ice-melter which will make it easier the next day should more snow fall.
Observe and enjoy
You can also take in the snowy landscape and enjoy it. It was a nice sunny day and I got to see the bright berries on a Pyracantha shrub.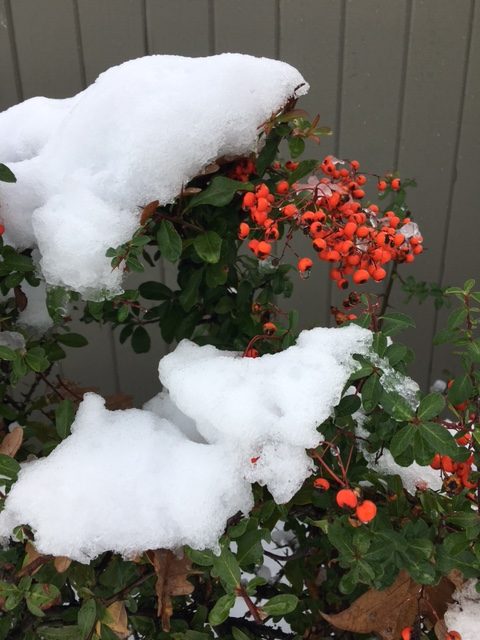 I also got to see winter annuals I planted in fall, covered in snow. Hidden a few inches below the surface are spring bulbs, patiently waiting for spring temperatures to signal a new season. The bulbs need to feel the cold.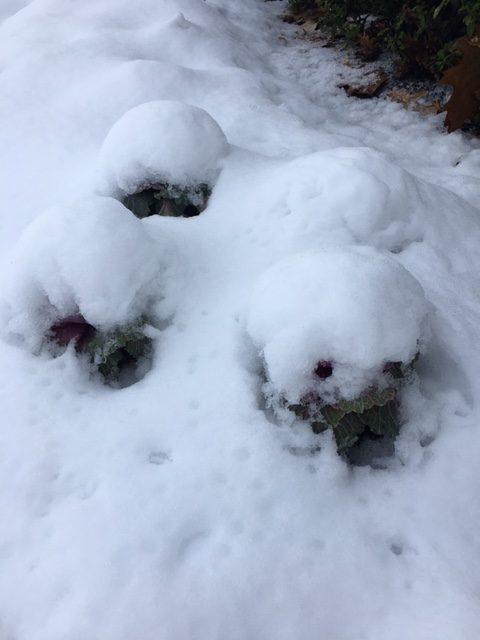 If you look closely, you can also find stuff that doesn't work well. Like the water bag (not cheap!) covering a tree stump on a municipal boulevard. I mean, it's winter, so the water bag is useless. Considering how much it retails for, it should be removed and re-deployed next year.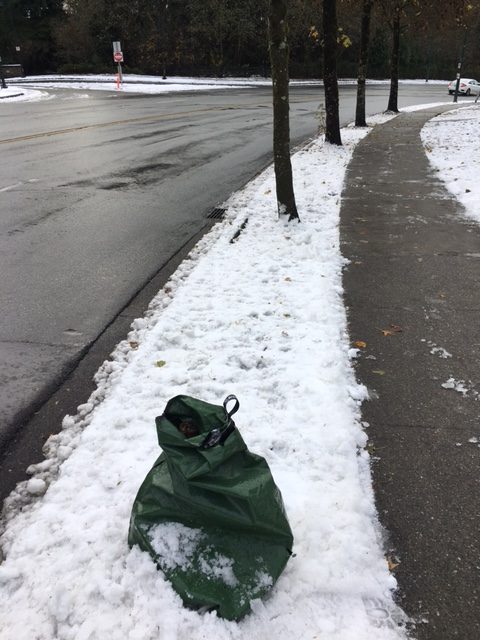 This picture also shows how tough life can be for city trees. If it's not drought that kills them, it's bad drivers.
Humans
Just as much fun, if not more, is observing the people on your crew. Some are snow mercenaries like me, ready to shovel snow for cash. Some work for other landscape companies and are now laid-off. One mother of three kept talking about her kids ad nauseam; and the driver showed up on very little sleep because she got stuck in last night's snow fall.
Once I got home, I texted the office lady with my hours so I could get paid by e-transfer. It was a good day, and we'll see what tomorrow brings.