Fall is incredibly busy for landscape companies. Now there is extra help in the form of a new Stihl blower. Introducing BR700.
It helps to have a good relationship with your dealer. That's how my employer recently got hooked up with a test unit of this brand new backpack blower from Stihl. Personally, I get more excited by plants than machines but product testing can be fun. Testing this bad boy was fun. So was writing a blog post about it.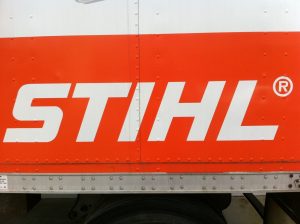 Big gun
Stihl's brand new backpack blower BR700 is a big gun! It's their biggest, most powerful blower. This is the kind machine residents in Vancouver's West End, where blowers are banned, have nightmares about. Landscapers will be asking Santa for one unit under their trees.
You will notice the huge adjustable telescopic tube with an adjustable control handle. This allows workers of different heights to adjust the unit. It's quick and easy. I love this feature.
The air volume at the nozzle is 30 percent more than for its older sister blower BR600. 1550 cubic meters per hour vs. 1150 cubic meters per hour. This is why the blower is ideal for large properties and tough landscaping tasks. Nozzle attachments are available for more directed flow.
One word of caution. Blowing out leafy beds with this beast might lead to soil loss. The BR600 might be better suited for this. If you have to push leaves down a road the BR700 is great.
Other features
adjustable support harness
anti-vibration system helps reduce operator fatigue
semi-automatic choke for smooth and easy starts
fuel-efficient engine
Conclusion
After testing, every crew got one of these big boys to help out with leaf clean up. The BR700 is powerful and a pleasure to use. I highly recommend it.