Hasegawa landscape tripod ladders are beautiful! In late September, while strolling through the CanWest Horticultural Show trade floor, I ran into a Hasegawa ladder booth. Then it hit me. Vancouver Sun's Steve Whysall had written about these ladders and how he dismissed them because of the cost. Now I had them in front me to try out. Great!
My observations
1.These ladders are really light. The ten foot version was easy to move.
2. The steps (rungs) are doubled which reduces the chance of slipping, and increases the chance of mud clearing from your boots
3. The third leg adjusts easily with a spring-loaded pin in 6″ increments and connects to the body with a chain. This works great when working on uneven ground.
4. There are no bolts to tighten; all joints are hand-welded.
5. The ten foot version retails at $435, which is expensive. Steve Whysall was right. I would worry about this ladder going missing off my truck.
6. Designed in Japan, production has now shifted to China. What hasn't? Allegedly production conforms to Japanese Industrial Standards.
7. The only landscaper I know who has a Hasegawa tripod ladder attached to the side of his trailer is Japanese!
8. Rubber boots are available for the clawed feet ( set of 3 for $50)
Brochure notes
no wobble
no screws
welded by hand
extendable back leg
extremely light weight
platform ladder available
Hasegawa has the reputation for making the best quality and safest tripod ladders in use today
incredibly safe and easy to use
Vancouver distributor
Steve Osmond 778-988-7303, gogostevo@gmail.com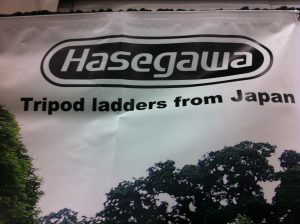 Conclusion
If your budget allows, buy this tripod ladder for your tree, garden and landscape work. I will. In the future. Call Steve at 778-988-7303 with questions.
Disclaimer: always use ladders safely! I am in no way associated with Hasegawa ladders or their distribution. The review is based on my observations at CanWest.