I love hand-pruning! It's quiet and usually it leads to soft-looking shapes unlike harsh and noisy power shearing. It also allows you to feel the foliage and think about other issues as you work. Below I discuss two winter hand pruning examples.
Privet shape
I was beaming inside and out when I was asked to hand prune potted privets (Ligustrum japonicum) by two residential tower entrances. All of a sudden, a routine maintenance day turned into joy!
I pulled out my Felco 2 hand pruners and went to work. Incidentally, always try to use good tools for pruning. Cheap hand pruners could produce cheap looking shrubs.
My job was to snip out the light green new growth and still leave the privets natural looking. It's hard to achieve this with power shears which shred the foliage and make the plant look too tight. A more natural form is preferable in this case.
Laurel fix
Another easy hand pruning job involves fixing laurels (Prunus laurocerasus 'Otto Luyken') after power shearing. Because power shears can only work at one level there is always some shredding visible afterwards. Fixing this is another beautiful hand pruning job.
Find the worst shredded parts and hand snip them out so the wood blends in more. Always try to cut just above a leaf node so the leaves cover up the cuts. The laurel will look better than it did post power shearing.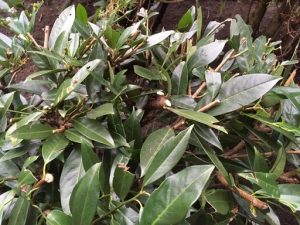 Conclusion
Hand pruning can be relaxing and almost feel like therapy. I love the quiet snipping and the resulting soft shapes. Power shearing tends to be harsh and noisy. When you shred laurels with your power shears, take the time to snip out the ugliest looking stems.