Taking stock
Landscape install projects are great because they break up the monotony of routine landscape maintenance work and they generate extra revenues for landscape companies. I also love working with plants so it's very good fit for me.
It's also a great idea to take stock of your completed landscape install projects and see how it all went. And while 2020 went really well, without any disasters or client complaints, there is one fail that bothers me.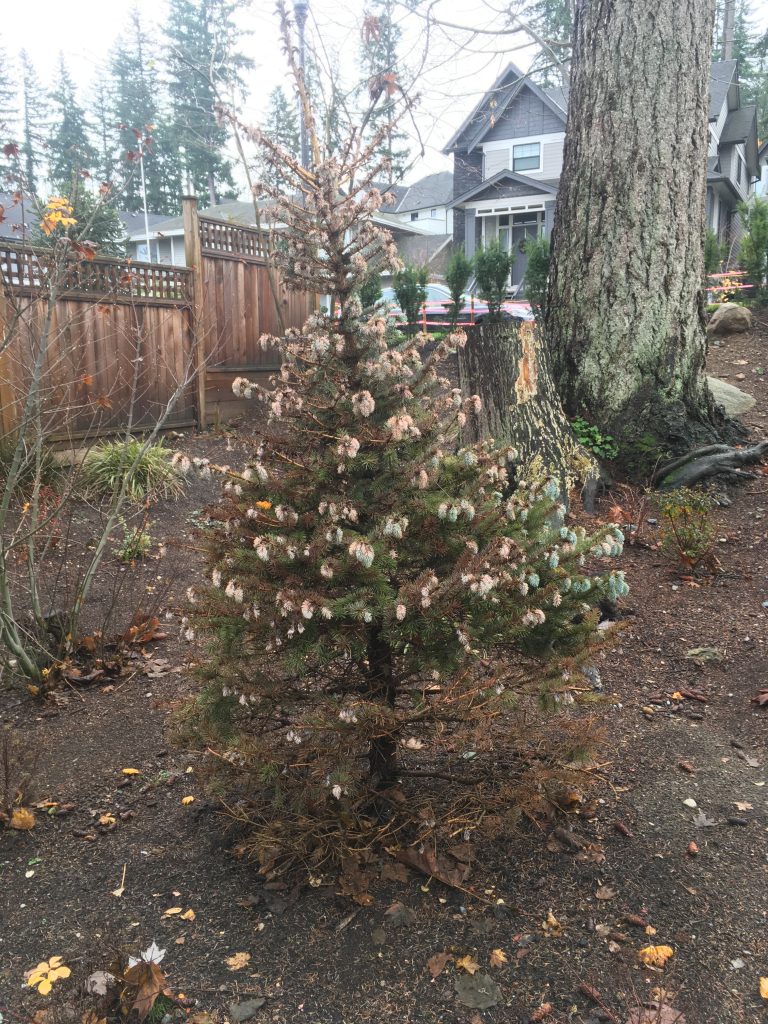 Doomed Christmas trees
In one project this season we installed two expensive spruce trees along with Sedums and shrubs like Spireae and Berberis. It was all fun and games except for the trees. You know you're dealing with spruce trees when you touch the foliage and feel the stabbing pain in your skin.
The planting went well. I dug a hole with the correct dimensions and removed the wire cage. Then I carefully back-filled the tree and went in search of water.
You should always water-in your installs.
The spruce trees were labelled as drought-tolerant but it's my humble opinion that they must first get established.
Because the trees were situated in no-man's land it took a while for the residents to start watering. I think this delay doomed the trees.
Others think that over-watering did them in and it's plausible that the residents would over-compensate with over-watering.
Several weeks later, both trees were suffering. One went down hard; and the other one pushed out new growth which gave me some hope. When I visited the site next, both trees were gone, replaced by native Western Red Cedars (Thuja plicata).
Water
Plants need water to function properly. This is especially true for newly planted specimens.
Over-watering can also be deadly because excess water displaces oxygen from the soil and the tree suffocates. For this reason it's important to stick your finger in the planting hole and check for moisture levels.
This is extremely hard for busy residents to pull off.
This one failure from 2020 will be haunting me for a while. I always feel responsible for the plants I install. Like they were my kids. It's unfortunate that I can't do the watering myself. I do the install and pray.
How was your year? Did you experience any failures in your gardens?