Tree guards
I got the idea for this blog post from my UK LinkedIn friend who shared this picture with me. Incredibly, it's of a shredded tree guard!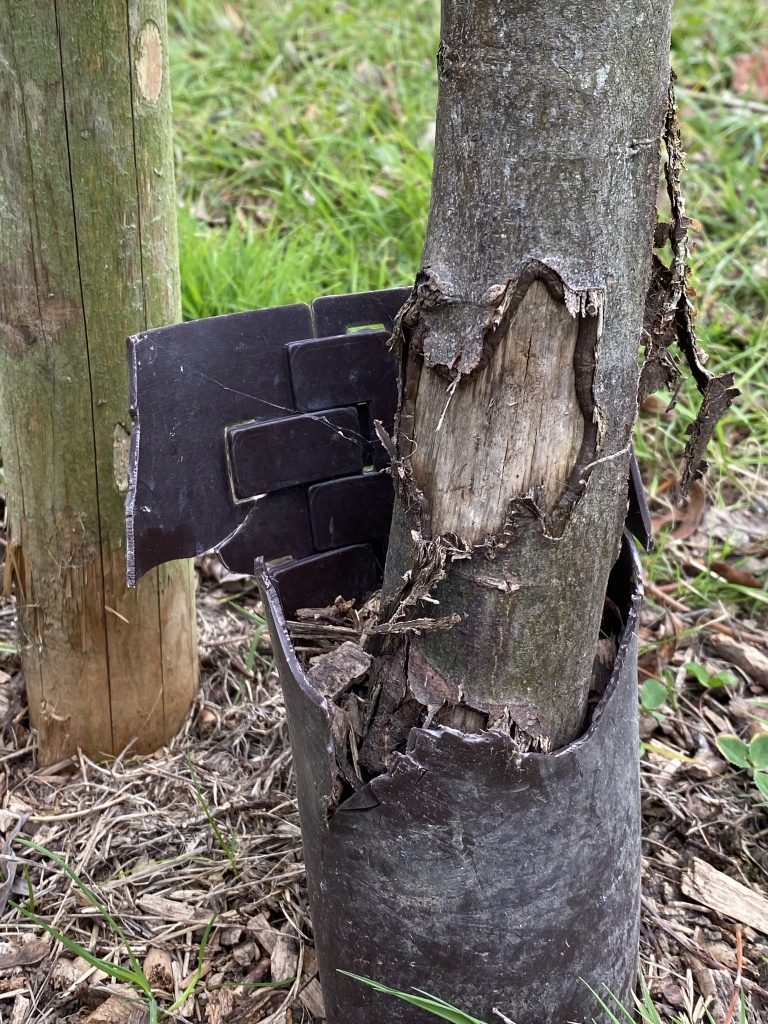 This is crazy. Shredding a tree guard is like burning down your life jacket or stomping on your wilderness first aid kit. It's in place to protect the tree exactly from this kind of abuse.
Because it's fairly high, I suspect the damage was caused by a ride-on mower. But, of course, any employee who shreds a tree guard could also be a lousy line trimmer. I hope I'm wrong.
Lack of training
This sort of abuse happens when workers aren't trained properly. It's as if lawn care machines have the right of way. They don't.
My favorite scientific paper is from New Zealand and it deals with this kind of "mower blight." The study authors recommend training as one way of fixing the problem. The other recommendations are: creating tree wells, and installing tree guards! Aha. That didn't work here so we're back to training.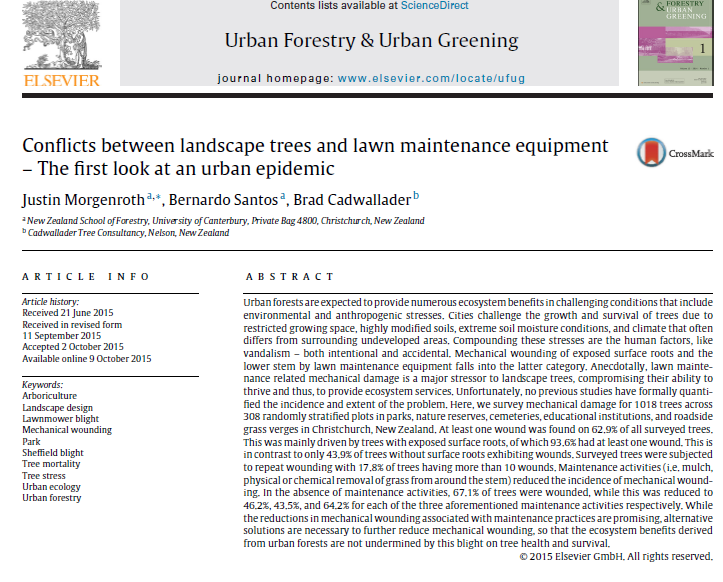 What lawn care machines do to trees
When you train lawn care workers you have to teach them why it's a bad idea to hit landscape trees with lawn mowers and line trimmers. As a worker at a municipal parks department, I witnessed one of my co-workers get out, put his trimmer on and when he trimmed the very first tree, I could almost feel the bark flying past me. So, when I bravely mentioned why it wasn't a good idea, the dude was upset. You have to thread lightly in unionized departments. Even with temporary full-timers.
Trees are resilient. You can hit them a few times and they will recover. It's the repeated abuse that stresses the tree.
Abused trees must use up precious resources for repairs when they should be investing in growth.
Damaged bark can allow diseases to get in
Wounding interrupts water transport
Repeated wounding eventually kills the tree
Removing, replacing and taking care of new trees is expensive
Dead trees can't provide important ecosystem services
This should be a good enough starting point for your crew discussion. Respect tree guards. People installed the guards for a reason.