Hand aerators are handy tools in spring because many smaller or hard to access lawns can not be aerated with machines. The same goes for tight corners where machines can not safely enter. Just make sure you don't have too much fun while you're hand aerating.
The tool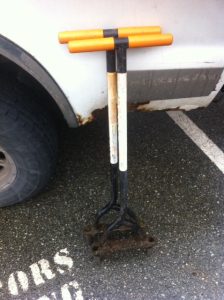 The hand aerator produces two soil plugs at a time, it's human-driven and produces zero emissions. Machines on the other hand produce emissions, many more plugs and they are heavy. So heavy, it makes no sense forcing them into small lawn areas. That's where the hand aerator excels.
Of course, it's a grind for the workers. They have to force the tool deep into the lawn in order to produce a nice plug. Remember, we are aerating our lawns so water and oxygen can enter the root zone. Or at least that's the usual answer.
When you have to hand aerate many small lawns for hours, it can be a grind. So just think, it's all done for beautiful lawns.
Too much fun 
Still hand aerating late in the day recently, we had some hand aerating contests. Standing side by side we tried to outdo each other from one side of the lawn to the other. It was some extra motivation for fatigued landscapers. But always make sure you don't overdo it. Safety first!
My crew mate, let's call him Arkadij, went a bit too far and drove the tool into his flimsy rubber boot. Seconds later he was on the ground in some discomfort. Now instead of hand aerating he was on the ground taking his boots and socks off, looking for signs of blood. Luckily, there wasn't any. Just some red marks and a developing bruise.
When I asked for his permission to take pictures of him and make him the hero of my blog post, he refused unless I compensated him. Then it was my turn to refuse his extortion attempt. I'm happy to report that he's OK. Always think about safety.
Conclusion
Hand aerators are very handy tools, especially the models with big holes. One good model is made by Fiskars. Models with smaller pipe openings tend to plug up so don't buy them.
The tool allows you to aerate smaller lawn areas and any tight corners where machines don't fit.