Spring is here and weekly lawn care is part of our routine. Our commercial machines see daily use and work extremely hard for us as we deliver great looking lawn care.  On some days the mowers will run all day. Five days a week all the way to November.
Key changes
To keep the machines running well all year there are a few key things we can do them. We have to change oil, air filter, blades and pull cords. Luckily most of these tasks can be done in the field on the fly. Some landscape companies employ small engine mechanics, some take the machines back to their shops for maintenance. But to save time, it makes sense to make easy adjustments in the field.
I openly confess to struggling with machines. I prefer handling plant material. But again, my advice to all landscapers is to become total professionals by knowing everything. That includes machines. So I took notes today when our guys were changing oil in the field.
Oil change in the field
Let's take a look at a simple commercial Honda push mower.
Locate the oil tank.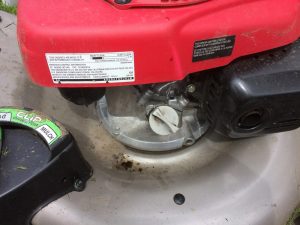 2. Now we need to extract the used oil. It might help to run the mower briefly so the oil flows better. We used a fluid evacuator. Simply stick the hose into your oil tank and start pumping until the oil is out.  Never pollute. Put the used oil into your empty oil container and recycle it at a proper facility.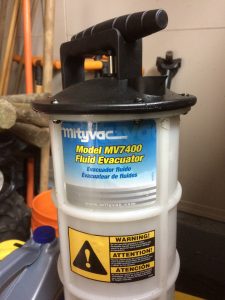 3. Replenish your oil with the proper formulation. Check the owner's manual. We used 10W-30 Lucas oil. The Honda push mower requires 250mL of new oil. The exact amount will depend on the model of your lawn mower.
Frequency of oil changes will depend on actual use. Our machines work hard all season so we change the oil every two weeks. One oil change for every twenty to fifty hours of use is a general guide.
My old Honda mower sees limited action so I change the oil once a year. However, that might be a mistake. I think seasonal oil changes would be better: spring, summer and fall.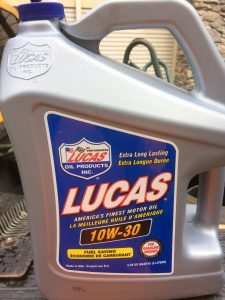 In conclusion, it's obvious that your mower will run better and last longer with regular oil changes. It definitely pays to stop during your busy week to do this quick change. Schedule it into your week and do it.