It's always fun to see tired landscapes rejuvenated. It just takes some strata council resolve and a bit of budget. And assuming you use perennials, your new landscape should be fine for years. Check out the example below and see what you think.
Tired landscape
There isn't much to look at. The lawn is mossy, tiny and lacking deep edge definition. There are three dead Pieris japonicas, and one still functioning native kinnikinnick groundcover plant (Arctostaphylos uva-ursi). This whole corner bed is ripe for re-editing.
Step 1 Preparation
Start over and toss everything out! Bring in new plants and lay them out before planting. Note that all new plants are perennials. They should live for many seasons, assuming they are watered enough so they can get established in their new home.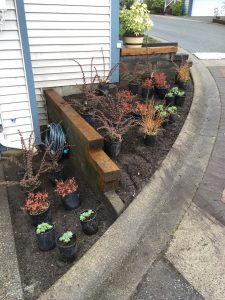 Step 2 Planting!
This is the fun part. Once the layout is approved you can plant. Only the green Sedums by the curb were tricky. They are succulents and easily break off.  The back corner plant is Berberis thunbergii, the reddish clumps are Spirea japonicas, the two light plants are fountain grasses (Pennisetum) and there is one sedge (Carex) on each end. The focal plant is Japanese willow (Salix).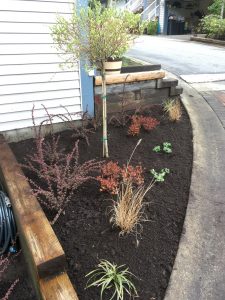 Step 3 River rock
The strata asked for and received 1-3″ river rock. Again, this step had to be done carefully. The Sedums would break off if they were hit by river rocks so care had to be taken to place the rocks around the plants. If you can, hose off the river rock so it looks better. This also helps the plants. A final clean-up blow completes the project.
Now go back to the before picture and compare. I think this new version is much better. And all it took was a few brave strata council members and a bit of budget.
Landscapes aren't static. They change and evolve. It's OK to be the agent of change. Try new things and experiment. It doesn't always cost a lot of money.