Last year came to a close with unusually cold temperatures and lots of snow in the Lower Mainland. As I write this blog post in early February, 2017, the cold weather continues. While working in cold weather with frosty landscapes can get very old and annoying, there is work. If you look closely. Some of it is obvious; some of it requires imagination. Consider yourself lucky if your employer let's you work. In winter seasons past I used to get my work hours cut just because it happened to be foggy outside. Foggy!
The obvious
Snow clearing from walks and roads. The obvious and back-breaking task. Dress well and have some spare snow shovels ready. Just in case. Hydrate properly. Clear off high-profile walkways and car ramps.
Brushing snow of plants. Gently take the load off. This will prevent damage. The Nandina domestica below must feel better.
Surveying for damage. There will be branches to prune off and shrubs to stake or tie back.
Tree pruning. Assuming it's not extremely cold outside, tree pruning is a perfect winter activity. The crown structure is clearly visible. Identify broken, crossing and rubbing branches; and anything dead or diseased. Identify every single tree species on your site using scientific names.
Cedars. Unless it's extremely cold outside and positioning your ladder looks sketchy, cedar hedges can be sheared. Don't forget you can warm up your hands on the gear case of your power shears. Just make sure the shear blades are stopped! No, it's not very safe but what do you do with frost bitten hands?
Perennial and grass cutback. Some perennials get missed in fall or they are left to provide some winter interest. For example, Sedums and ornamental grasses. If you see snow damage it's OK to cut them back.
The less obvious
River rock install. This was unexpected but it made perfect sense. Imagine a deserted landscape supply store on a cold morning. Loading my truck was quick and easy. No waiting. The client needed to cover up plastic that was protruding from her patio rocks. So we buried it with 2-6″ rover rock. As she came out to inspect the work and point out the protruding plastic, we enjoyed the heat escaping from her unit!
Drains. It's critical to expose all snow covered drains. Before the surrounding areas flood. This step often gets skipped because it's assumed municipalities are responsible for it. They are but they're also busy. Be glad you have some work to do.
Exploring new sites. As new sites come on, this is a good time to familiarize yourself with your new work areas. Walk every inch, make notes, written and mental. Take pictures. Survey. You'll be glad you did when the weather improves. This includes site clubhouses with washrooms and heat. Consider a brief safety meeting as you defrost. Just don't make a mess.
Tree stake removal. Check to see how long the tree stakes have been on the trees. Anything over one year should be removed. Unless it's a special case like downhill leaning pines that would collapse instantly. Staked trees fail to form reaction wood which is formed when wind events run though. It makes trees stronger.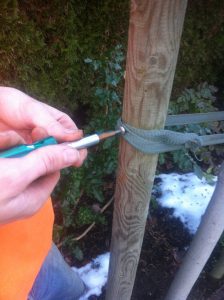 Tree training. Now is a good time to take a new arboriculture apprentice and point out weak, crossing and damaged branches.
Blowing snow. I hate blowers and the noise they make but there are cases when blowing snow makes a lot of sense. We exposed the light top layer and shovelled the remainder, thus saving ourselves a lot of time and back-breaking labour. Ice can also be blown away if you're patient enough to let air build up under the ice. This can actually be a fun activity.
Conclusion
There is winter work to be done even when the weather does not cooperate. Just do it safely. Dress properly. I spent money today on a new, warmer toque, $1.99 on a neck warmer, and new, what I hope will be much warmer gloves. Test day tomorrow. There will be food on the table for my kids. That thought always warms me up!
It's also a good idea to enjoy the frosty landscape views. Kids make cute snowmen; the mountains look great covered in white. Make the best of it.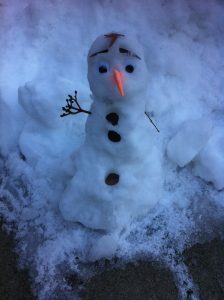 ---