I really enjoy collecting new firsts. It makes my working life more exciting and, because I'm doing something for the first time, it becomes a good learning experience. Let's examine two of my firsts from yesterday.
Butterflies
Yesterday, I was rushing my end of the day clean-up blow because my son had a soccer tournament to get to. Then I stopped to admire a Butterfly bush (Buddleia davidii). It flowers from June to September and clearly the flower panicles weren't fully formed yet.
And then a butterfly showed up, attracted by the flowers and totally oblivious to my presence and the loud blower on my back. Finally I had my own picture of a Buddleia davidii with a butterfly, confirming the common name.
Now considered invasive, Buddleia davidii provides summer interest. Then when it starts to get out of control, we hack it up.
Prunus hedges
I've seen and worked with English laurels (Prunus laurocerasus) before but the Genolia variety is new to me. This fastigiate cherry laurel (Prunus is in the cherry family) is perfect for privacy screens because it has a more upright habit (fastigiate). It also handles partial shade.
The upright habit and shade tolerance were critical factors in my project area.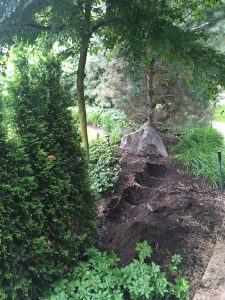 I had just taken out four dead cedars (Thuja occidentalis 'Smaragd') from under a Styrax japonica tree. Obviously, replanting with the same cedars would be suspicious so in went the fastigiate cherry laurel. It can handle full sun, partial sun and shade; in this location it will get some sun and lots of shade.
The upright habit will help the homeowner create a privacy screen between his unit and the walkway. Plus the glossy green leaves are very attractive. The cherry laurel will also flower.
I watered the laurels in nicely and checked the planting depth afterwards. I got my first ever Prunus laurocerasus Genolia planting done; and the owner was extremely happy to get his dead cedars replaced. I can't wait to check on the hedge later in the season.