Good landscape maintenance dictates that we periodically cover the entire site. On small sites this can be accomplished weekly. On larger sites, you can work out a four-week rotation. But the goal should be complete coverage without discrimination.
This was going through my head recently when I was asked to prune and clean up many parking stall inlets on a large site. This wasn't a new idea; the work was on the site to do list for quite some time. But because the parking stall inlets are lower profile, they get pushed back. It's not sexy work.
I am convinced we have to fight this discrimination. I treated every single parking stall as I would the main entrance and clubhouse areas. That's what professionals do.
Parking stalls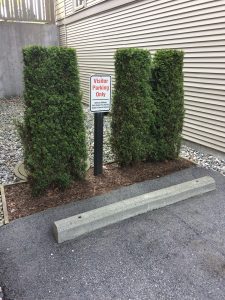 Take a few minutes to examine the picture above. It's hardly an inspiring area. You can see how workers would gravitate toward a clubhouse area with nice grass and plants. So the boss sent me in. Supervisor Vas on the case. No big deal. I don't discriminate.
Step 1: set out tarps on the river rock because once cedar clippings get stuck in the rock they are extremely difficult to clean up. Raking is brutal and blowing is effective only up to a point. The clippings will get lodged in the rocks. Definitely set out two tarps to avoid headaches later.
Step 2: shear the hedges like you normally would, tight on top and lighter on the sides. All signs must be clearly visible. Once a year should suffice. Twice is OK.
Step 3: clean up and cultivate at the base of the cedars; try not to remove too much bark mulch. Also check the river rock areas for weeds. I found one that required extra time for weeding. Again, aim for complete coverage. Never discriminate. Even low profile parking stall river rock areas should be weed-free. The last thing we want is weeds producing seeds.
Step 4: watch for parked vehicles so you don't cause any damage. You can always come back later.
Step 5: gently blow off all edges when you do your site courtesy blow.
Discrimination by design
Some landscaping companies give their workers tight deadlines so they have no choice, they have to discriminate. When this is the case, most maintenance tends to happen at high-profile areas like entrances and clubhouses.
Again, this is a bad idea. Very bad idea. Good landscape maintenance is done without discrimination. I've seen this at a Burnaby site that went downhill fast. Two low-budget European workers had exactly two hours to spin their magic. And there wasn't much magic.
By contrast, we have six workers at a neighbouring site all day! Our work involves a three-week rotation so that the entire site is covered. Parking stalls included. No discrimination.
Conclusion
Cover 100% of your work sites periodically so there isn't any discrimination. Treat lonely corners the way you would high-profile clubhouses. This will lead to happy clients and renewed contracts.