Regular readers of this blog will know that I am not a fan of artificial grass. It's plastic, man-made with petro-chemicals, it heats up and it doesn't produce oxygen. But there are legitimate cases where desperate people can find salvation in artificial turf.
Dog damage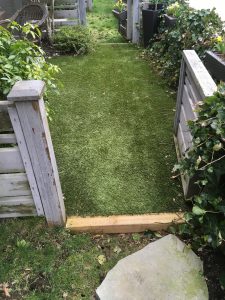 These people have a tiny back lawn frequented by their dog. The daily urine assault left the grass burned and struggling. The owner tried to fix it, over and over and finally got fed up. Since parting with the family pet wasn't a popular option, they decided to install artificial turf. And it works in this case. Even our lawn maintenance was awkward before the changeover.
Clay soils
Our West Coast soils have lots of clay in them which means that lawns installed over them drain poorly. The clay forms a nasty layer that doesn't allow water to percolate down easily. If you want to fight these conditions one recommended procedure involves top dressing these lawns with organic soil. This can over time break up the clay layer. But this would take time and resources.
So what do you do? You stop fighting the conditions and install artificial turf.
You will notice in the picture that some owners are still clinging to their natural grass lawns.
Shade
Shade also affects grass lawns negatively. Grass needs light to thrive and in this case we have four joined sections of backyards that turn dark in summer as the mature ash trees flush out with new growth.
Two years ago I personally pruned whatever branches I could reach on these mature ash trees (Fraxinus). Alas, it had very little effect on the lawns. They were still shady and weak. So the strata council called a tree company to remove the trees. However, the tree company advised them that the municipality was unlikely to issue tree removal permits because the trees were mature and close to houses.
Ok, so now what? One last idea: artificial turf. It looks great in shade and it eliminates the annual fight with expensive grass seed and soil top-dressing. In addition, landscape maintenance workers don't mind skipping these units because they are difficult to access with push mowers.
This is one case where artificial turf was the last resort.
Conclusion
If you must have lawn, natural grass is better. I personally dislike man-made plastic turf. But there are cases where installing artificial turf makes perfect sense, such as dog damaged lawns, shady lawns and poorly draining lawns sitting on top of clay soils.