Removal request
Never discount your simple lawn care clients because, inevitably, they will come up with extra projects for you to do. And all of a sudden, there is extra money to be made by solving more problems for your clients.
The mugo pine (Pinus mugo) in this blog post was clearly struggling and the owner wanted to use the space for her potted Hydrangea. No problem.
Get set
Before you start, state your price. I did. Then, once the job price is established, bring all of the necessary tools and bang the job quickly. Of course, there is always some risk because some mugo pines are very stubborn, especially when they're healthy. This one was marginal so it popped fairly easily.
Don't touch my fabric
The entire bed is covered in landscape fabric and a generous layer of mulch. A few years ago I brought in several yards of fresh bark mulch because the bed looked a bit tired. See, extra services lead to extra cash.
The owner warned me not to disturb the fabric too much and I complied. I uncovered just enough of it so I could remove the stump.
Incidentally, landscape fabric doesn't work, especially long-term. Yes, it will keep weeds down in the beginning but as the fabric clogs it causes problems for the plants. I suspect this mugo pine wasn't getting enough water into the root zone because the fabric was pressed against the stems.
Step 1
Lop off the branches for easier access to the root zone. Once I removed the branches, I used my shovel and mattock to dig around the plant. I had to fight the fabric a little bit so I put my body between the plant and the owner's windows. This way there wasn't any panic in the house about damaged landscape fabric.
Once the plant was loose, I had to sever a few stubborn roots with my loppers. A hand saw will also do. The mattock is fine, too.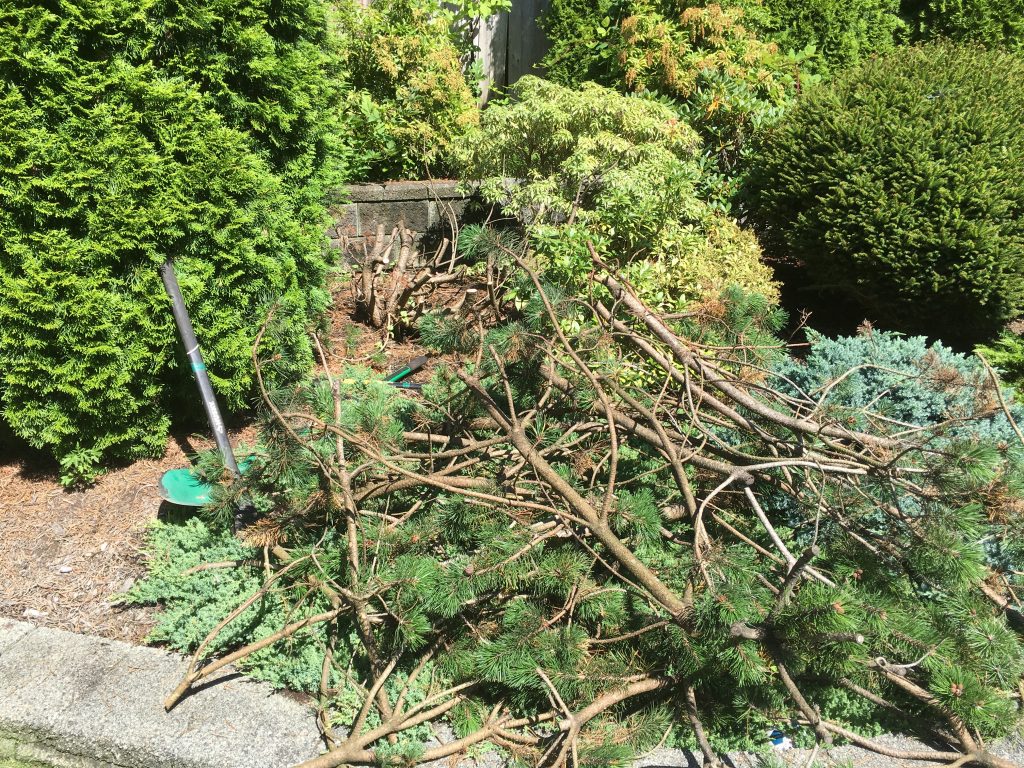 Step 2
Remove the stump and branches and install the potted Hydrangea. I suspect the Hydrangea will do well since it's planted in open soil. I just had to remind the owner to water it. And now, instead of looking at a struggling mugo pine, the owner is looking forward to Hydrangea blooms next season.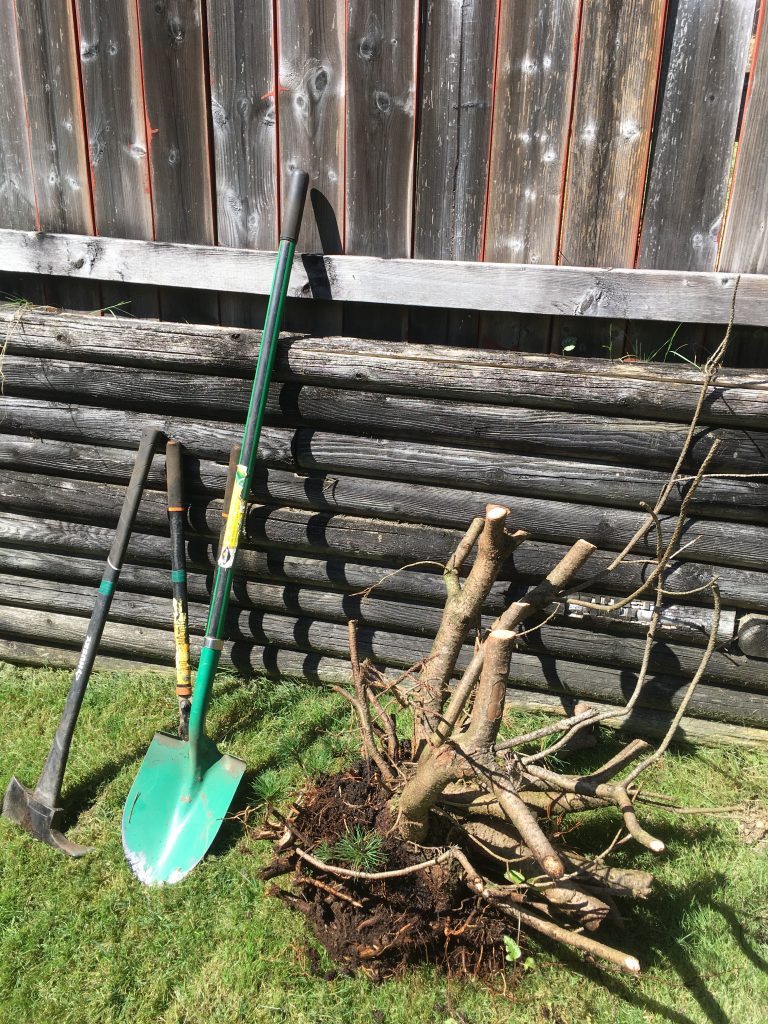 Problem solved! Cash made! Blog post composed!