The plan
When I do landscape installations, I usually follow exact specifications and I rarely have anything to do with the planning. Strata managers create the plan and I execute it. In this case, the plan was to install groundcover plants to cover up bare soil; and to deflect people from their unauthorized pathways. It didn't work!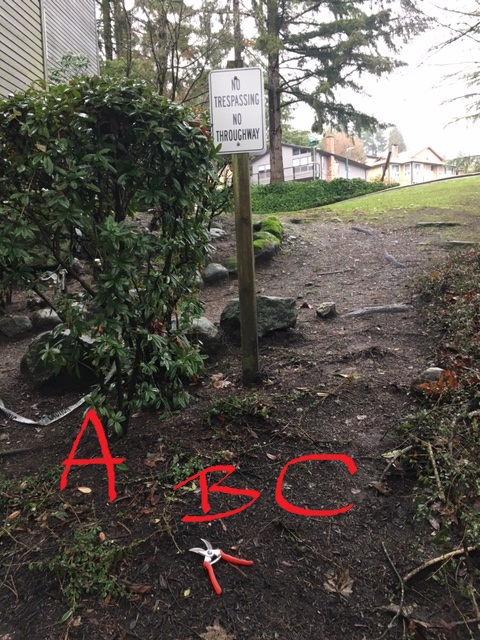 Residents ignore the signs every day because this pathway is the most direct downhill access to their homes. Nobody wants to go around. Nobody. And the same goes for passersby who know that this path will take them down to the road and nearby NewPort village. Once people form their habits, it's a fight. My kinnikinnick plants never had a chance.
Heavy labor
Scraping off compacted forest floors is heavy labor. Once I got a nice layer removed, I installed new garden soil mix, mowing it up slope, which also involved heavy labor. Luckily, I had a bit of shade.
Last came the planting of many specimens of kinnikinnick (Arctostaphylos uva-ursi). Sadly, I couldn't locate any water hoses nearby so I just shook my head and prayed.
Always water-in your newly installed plants.
Months later
Now, when I showed up on site last week, I could see that the groundcover plants were trampled by foot and pet traffic; see (C) in the photo above. The poor plants are barely holding on; they never had a chance. Slightly off to the left, the plants are doing fine (A). I left my snips (B) in the photo for scale.
Now what? Replanting seems crazy unless you place a full-time security guard on the lawn. Clearly, not all projects work out well. We tried to green up the open pathways but the plants couldn't handle the foot traffic. I can't wait to see what the strata council members think of next.